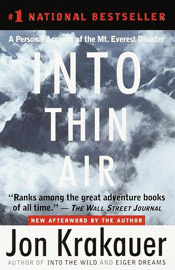 Title: Into Thin Air
Author: Jon Krakauer
Genre/Format: Literary Journalism/Audiobook
Year: 1999
Acquired: Library
Rating:





Summary: On May 10, 1996, eight climbers were killed and several others were injured when a storm hit the peak of Mount Everest while multiple groups of climbers were on the mountain. Journalist Jon Krakauer was along on the trip, writing about a new trend of commercial trips up Mount Everest which allowed inexperienced climbers to get up the mountain with the help of more experienced guides.
But when the storm hit, Krakauer went from observing journalist to endangered participant, and the aftermath of the storm resulted in a story almost too tragic to believe. Krakauer's piece created a lot of controversy when it was published in Outside magazine, but he was still persuaded to turn it into a book. Hence, Into Thin Air.
Book Review: I've always been a Jon Krakauer fangirl, so I went in expecting to love this book. And of course, I did. It might actually be my favorite Jon Krakauer book because it does such a good job of creating narrative tension and trying to answer questions in a tragedy that's nearly inexplicable and was probably entirely preventable.
Throughout the book, I couldn't help but ask myself over and over why anyone would put themselves through this. Even without the storm, climbing Everest isn't something to take lightly — it takes years of training, months of preparation, and even then can take out the best of climbers. As the book moves towards the inevitable conclusion, I couldn't help think about the futility of the whole endeavor.
Audio Review: This books lends itself almost too well to audiobook. By the time the final ascent to Everest began, I didn't want to stop listening. And as the aftermath of the storm comes to light, the narrative just spirals out of control in a way that you can't ignore. I was alone in my car and kept exclaiming, "No! He didn't! Are you kidding me!?" I probably looked crazy. Anyway,  it's really, really good and highly recommended.
Other Reviews: Lost in a Good Story;

If you have reviewed this book, please leave a link to the review in the comments and I will add your review to the main post. All I ask is for you to do the same to mine — thanks!