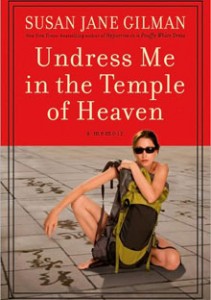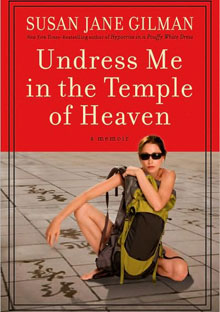 Title: Undress Me In the Temple of Heaven
Author: Susan Jane Gilman
Genre/Format: Memoir/Audiobook
Year: 2009
Acquired: Won in an online giveaway
Rating:





Summary: After their graduation from college, friends Susan and Claire decide they are going to go on a year-long backpacking trip around the world. Their first stop: China, a country just opening up to the west that's practically uncharted territory.
Things start out fine enough, but then Claire starts to act odd — suspicious of strangers, constantly writing in her diary, and losing her temper with Susan in stressful situations. Susan blames the trip, but soon learns Claire's strange behavior is much more serious than she imagined and she's going to have to deal with the consequences without anyone else to help.
Book Review: This book was awesome! Gilman has always been a favorite author, so I was so excited to get another memoir to read. And let me tell you — this book was impossible to stop listening to and probably would have been impossible to set down. There were times that I was listening to this book in my car when I just had to yell, "Are you kidding? That did not just happen!" (Apparently, that's a theme when I listen to engrossing and awesome audio books). Claire's downward spiral is so unexpected and terrifying, you can't help but get sucked into this story.
Audio Review: Gilman does a truly great job narrating this audio book. Her writing is very funny, but I got a clearer idea of her sense of humor through her reading. It's almost as if she was able to channel her twentysomething self in the narration, capturing her sense of wonder and panic as their trip started to spiral out of control. It was totally gripping.
Unfortunately, the audio book version I had turned out to be an abridged edition. I didn't know that until after I was finished, but when I discovered it I was really disappointed! I think that's why I only gave it a 4.5 out of 5. I'll probably buy a copy of the book sometime in the future so I can catch up with the things I missed. Also, this is the book I'll be discussing in the Twenty Minute Book Club when I'm interviewed by Nicole for That's How I Blog! So read this book then we can chat about it 🙂
Other Reviews: Bermudaonion's Weblog; S. Krishna's Books; She Is Too Fond of Books; A Novel Menagerie;
If you have reviewed this book, please leave a link to the review in the comments and I will add your review to the main post. All I ask is for you to do the same to mine — thanks!