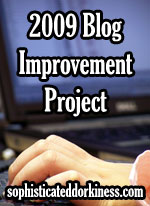 I feel like December is always a time of wrapping up loose ends, trying to make sure projects didn't get forgotten or tasks didn't get ignored so I can start out the new year feeling refreshed and ready to go. I love the feeling of starting fresh every 365 days.
In the spirit of finishing up, this week's Blog Improvement Project task is to go back to a previous task you didn't complete and try to cross it off your list. Or, if you've been better than me and done all of them, then choosing a task to do again.
Visit this page for a complete list of BIP tasks if you can't remember, or just look back through some of your posts to see what you might have missed. Maybe you're still working on a guest post, or want to share your thoughts on some new social media tools. Or, you could try highlighting some of your best posts this year, work on leaving more comments, or get out of your house and blog someplace unfamiliar.
Once you've decided your project feel free to leave your plan in the comments. And when you're done, if you've got a post to share, leave a link in the Mr. Linky below.
Good luck, and always remember you can feel free to share any questions, comments, or concerns in the comments or via e-mail — sophisticated.dorkiness [at] gmail.com.
P.S. The next task, scheduled for December 21, is the final week for the BIP this year! Although it's been a lot of work, the project went really fast! As a heads up, the next task will involve some end of the year assessment and possibly goal setting, so be looking forward to that. I'm also working on an end of the year general wrap-up for the BIP, so if you have any comments to share before I write it, feel free to e-mail or leave a comment.