One of my goals for the end of the year is to have reviews written for all the books I read in 2009. I'm not quite there yet, but close. When I started listing the unfinished reviews I realized there were a bunch of books I read that I just didn't have that much to say about. Rather than making them all their own posts, I just decided to group them together into one post. If you keep reading you'll find my reviews for Infinite Jest, Rules for Radicals, In Defense of Food, The Djinn in the Nightingale's Eye, Graceling and Fire, and Serenity: Those Left Behind. Enjoy!
Infinite Jest by David Foster Wallace
Genre: Fiction
Acquired: High school graduation gift
Rating: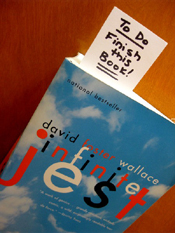 I actually wrote quite a bit about this book when I read it for My Infinite Summer, I just never did a final review of it. I guess in a sentence, the book was dark, funny, thoughtful, frustrating, and long. But it's a book I'm glad I worked though, and a book that I want to read again someday. If you want more thoughts, check out some of the posts I wrote in process the of reading: Page 223; Doing a Puzzle Blind; Infinite Jest is DONE!
---
Rules for Radicals by Saul Alinsky
Genre: Nonfiction
Acquired: Purchased
Rating: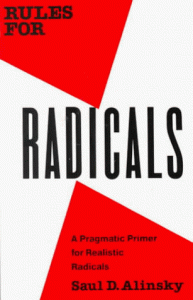 I read this book for a class I took on community organizing. Saul Alinsky is considered the father of community organizing in the United States, and this book is one of his biggest works. He talks a lot about the importance of language and defining your fight, how conflict is sometimes necessary for social change, and how to protest by demonstrating your own power. It was an interesting read, and pointed out some issues I hadn't thought about before.
I gave the book 2/5 not because it was bad, but just because I don't know that it would be especially interesting for someone not interested in community development or activism. But if you are interested in the topic, I think the book is worth at least skimming.
---
In Defense of Food by Michael Pollan
Genre: Nonfiction
Acquired: Purchased
Rating: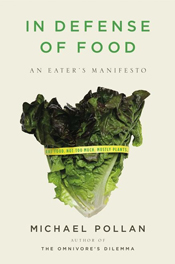 This year, In Defense of Food was the book UW-Madison chose for the campus common reader. I read it because I was a volunteer discussion leader for the program so needed to be familiar with it. I also got to see Pollan give an address to campus, which was pretty good (even if he did just repeat most of his points in the book).
All that said, I didn't love this book much. I dieted a lot in college, and over three or four years trying to figure out food I managed to learn a lot and lose about 35 pounds. So most of what Pollan had to say in this book was stuff I already knew. I also felt like the tone of the book was too argumentative for his point and, at times, a little condescening. I guess I just got annoyed, which makes my low rating really, really subjective.
However, I think someone not as familiar with food as I've come to be would learn a lot from this book. Many of the people I've talked to credit the book for helping them change their eating habits and becoming more aware of their consumption. And it's a lighter read that the other Pollan book I read this semester, The Omnivores Dilemma.
---
The Djinn in the Nightingale's Eye: Five Fairy Stories by A.S. Byatt
Genre: Fiction
Acquired: Purchased
Rating: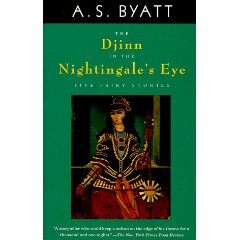 I read this book as part of the in-real-life book club I'm part of. I picked it out, so you'd think I'd have a lot to say about it. But nope, I really don't and I'm not sure why.
The book is a series of four short stories, then one longer short story. They are all fairy tales, but with a modernish twist to them. My favorite was "The Story of the Eldest Princess" which was about what happens to the first princess that always gets sent out on quests and doesn't complete them. I liked the way it played with conventions of fairy tales and all those sorts of things.
If you like fairy tales and short stories, or if you want to try A.S. Byatt in a small dose, or you just like stories that play with conventions and expectations, I think this was a good one. I just didn't have that much to say.
---
Graceling and Fire by Kristin Cashore
Genre: YA Fiction
Acquired: Library
Rating:





Graceling and Fire are the first book and companion book in Kristin Cashore's YA fantasy series. I read Graceling a long, long time ago so I can't remember many specifics other than I liked it enough to request Fire from the library too. I've seen a bunch of good reviews of both books lately and don't feel like I had much to add. If you like YA fantasy with complicated female narrators, these two books are admirable and interesting additions to that type of books. For more perspectives, check out what some of these people had to say about Graceling (It's All About Books, Beth Fish Reads) and Fire (S. Krishna's Books, Fyrefly's Books Blog).
---
Serenity: Those Left Behind by Joss Whedon, Brett Matthews, and Will Conrad
Genre/Format: Fiction/Comic Book
Acquired: Library
Rating: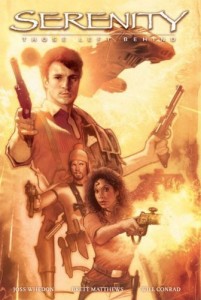 I read this book because I'm in the middle of re-watching Firefly, an awesome tv show that was canceled too early and holds a special place in my heart. Fyrefly wrote a really great review of the book, and since it was at the library I grabbed it on a whim. If you're a fan of the tv show (or the movie that's based on the tv show) then you should absolutely read this comic. And if you're a Firefly fan you should also leave a note in the comments so we can commiserate about how much we miss the show and would give anything for it to come back.
---
So there you have it, the books I read but didn't have much to say about. One more task completed before the new year can arrive!