Title: Heat: An Amateur's Adventure as Kitchen Slave, Line Cook, Pasta-Maker, and Apprentice to a Dante-Quoting Butcher in Tuscany
Author: Bill Buford
Genre: Literary Journalism
Year: 2006
Acquired: Purchased
Rating:





One Sentence Summary: To learn to be a chef, journalist Bill Buford follows the path of celebrity chef Mario Batali from the kitchen of Batali's restaurant in New York back to the origins of Batali's cooking education in rural Italy.
One Sentence Review: Buford's profile of a chef and his restaurant were more interesting than Buford's own attempts to learn the origins of Italian cooking, but the book's look at what it means to be a chef from the inside was readable, and made me happy I don't lead that life 🙂
Long Summary: New Yorker editor Bill Buford want to learn to be a chef, so he convinced celebrity chef Mario Batali to take him on as a kitchen slave in Babbo, Batali's New York restaurant. After spending months learning to properly cut carrots and make various bases, Buford moves up to line chef in the frenetic world of a restaurant kitchen. Wanting to learn more about the origins of how Batali cooks, Buford profiles the temperamental and often over-the-top chef's rise to fame. He also tries to walk in Batali's footsteps, going to Italy to learn how to make pasta and how to be an Italian butcher, much like Batali did during his early training.
Long Review: Heat starts out with a lot of promise — journalist gets the chance to live and work behind the scenes of a famous restaurant. I love these sorts of insider looks at places I'll never see, so there's a lot to expect from the book. Consequently, my favorite parts of this book were the sections when Buford focused on the behind-the-scenes life at Babbo and Batali's rise to fame. Batali is a fascinating character, and the access that Buford got to his person and professional life seems unparalleled. After reading this book, I know for a fact I wouldn't survive in a professional kitchen, and frankly, I never want to.
I also enjoyed how willing Buford was to point out his own mistakes learning the ropes of the kitchen. During one scene at Babbo, Buford struggles with dicing an enormous volume of celery. Just when he feels confident, Batali arrives in the kitchen:
"What the hell is this?" Mario asked, when he appeared, holding up a handful of my celery leaves, before plunging back into the plastic bag to see what else was there to discover–which was, of course, more celery florets, hundreds of them. He pulled them out, shaking off whatever greasy thing was adhering to their leaves (they'd been served that night with steak). "What have you done?" he asked me in astonishment. "You're throwing away the best part of the celery! Writer guy–busted! Remember our rule" we make money by buying food, fixing it up, and getting other people to pay for it. We do not make money by buying food and throwing it away." I witnessed the garbage routine several more times, involving kidneys ("Elisa, we don't throw away lamb kidneys"), the green stems of fresh garlic ("Frankie, what are you doing? These are perfect in soup"), and the rough dirty stops from wild leeks ("Somebody talk to the vegetable guy–he's killing me"). Anything vaguely edible was thrown out only if it was confirmed that Mario wasn't in.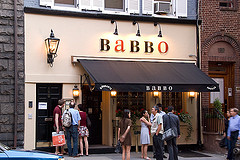 That's actually a pretty tame incident in the kitchen. By Buford's description, the place was frantic yet perfectly organized, vicious, but with a sense of family and camaraderie, and always striving to produce consistently great food.
That passage also illustrate one of the more annoying parts of the book for me–Buford's use of parenthetical asides. Rather than just using some of the most colorful and interesting quotes straight in the paragraph, Buford almost always put them in parentheses next to his interpretation. I wish he'd just used the quotes because they were just awesome. For example,
On shaping pasta: "Oh dear" Mario whispered, "this ear looks like it might have been Doctor Spock's"

On cooking fish: "Italians," Mario says, "won't f*** with their fish. There are restaurants that won't use lemon because they think it's excessive."

On preparing greens: "Much better to boil the s*** out of them and then sautee them in olive oil and garlic–you can then actually chew the f***ers."
Every one of those quotes was put in parentheses, next to Buford explaining something related. I love the quotes, and I'm glad he included them, but the use of parentheses seemed clumsy.
The book was slightly less interesting when Buford went off on his own to experience learning to cook as Batali did. Sure, there is a lot of interesting information about the origins of pasta and how to be a butcher in a small village in Tuscany, but Buford is a less interesting main character than Batali. Someone interested in the origins of Italian cooking of curious about how to become a master chef may enjoy those sections, but I found them dry and couldn't wait to get back to Batali and his restaurant in New York.
That said, I can see how those apparent digressions fit in with the overall goal of the book–understanding what it takes to truly be a great chef. When Buford started in the kitchen at Babbo, I don't think he really knew what he was getting into or the time it would take him to feel like he was more than just cook. Being a chef takes more than being able to follow a recipe–it's a deep understanding of how food works, how foods interact, and how to combine flavors and tastes into something new. The sort of trial-by-fire that Buford went through to learn this lesson might be uncommon, but his journey is one that all chefs and aspiring chefs must take.
If you're interested in the behind-the-scenes of a famous kitchen, the over-the-top personality of a celebrity chef, or the process of discovering how food is made and where those traditions come from, there is something for you in this book.
Other Reviews: Beth Fish Reads;
If you have reviewed this book, please leave a link to the review in the comments and I will add your review to the main post. All I ask is for you to do the same to mine — thanks!