Hey everyone! I've been unofficially unplugged from blogging for the last week or so, but I'm finally back. Today is going to be a day mostly devoted to getting caught up — I've got a ton of posts in Google Reader to catch up on, comments to respond to, end of the year posts to finish up, and some miscellaneous paperwork and e-mails to get back to. But for the moment, enjoy a review of Truman Capote's famous nonfiction novel, In Cold Blood (cheery, I know).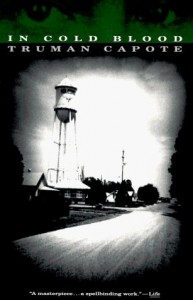 Title: In Cold Blood
Author: Truman Capote
Year: 1966
Genre: Literary Journalism (Nonfiction Novel?)
Acquired: Purchased
Rating:





Two Sentence Summary: On November 15, 1959 four members of a prominent family were brutally murdered for no apparent reason. This book reconstructs the crime and follows the investigation of this senseless crime.
One Sentence Review: Capote's book is chilling and creepy, but reconstructs this crime so fully it's earned it's status as one of the central tomes of literary journalism.
Long Summary: In Holecomb, Kansas, the Clutter family was well-respected and well-known. Sixteen-year-old daughter Nancy baked cherry pies and dated the local basketball star. Fifteen-year-old son Kenyon was quiet, but loved technology and building things. Father Herb employed many local workers on the family's successful far. And mother Bonnie, although often confined to bed with an unspecified nervous condition, served as a loyal homemaker. The family also had two older sisters, but both were already married and moved away. But on a night in November, the entire family was brutally gunned down in their home leaving far more questions than answers.
Truman Capote's book follows the entire investigation process, piecing together the day of the crime and the days after from the perspective of the investigators and the murderers. The killers, felons Dick Hickock and Perry Smith, flee Holecomb and make an ill-conceived escape to Mexico with no money and no options before they're arrested back in the United States. Capote is there for the entire process — capture, trial, and eventual execution — and he details those events in with a chilling clarity and eye for detail.
There might be some spoilers in this review, but since this book is quite old and very well known, I don't think it's a problem. But just be warned.
Long Review: I was struck by how well Capote sets the stage and builds tension in the book. You start the book knowing the murder is going to happen, knowing the killers will be caught, and knowing that they'll eventually be executed, but the book still manages to be tense and unsettling as you read. I didn't expect that at all, which made this book one I had to read in daylight and only in small doses.
One way Capote builds tension is by not letting the details of the murder out right away. He starts with the day of the murder, going through what each member of the Clutter family was doing and who they were seeing. There's a sense of doom that hangs over all of it, knowing the murder is coming. I expected Capote to go chronologically, giving the details of the murder right away. But he doesn't he — he saves all of that for Smith's confession, which doesn't happen until the third section of the story. So you get this awful tension through the whole thinking knowing all the details are coming eventually. It's masterful, and a much smarter way of telling the story that I suspect I would have used.
Critiques and Controversies
One critique of the book is that Capote seems to get too close to the killers and actually starts to portray them too sympathetically. Some people even speculate Capote and Smith had a sexual relationship during the course of researching the book. I have to disagree with that critique. I never felt like the book let the killers off the hook in any way. Maybe I'm just cold-hearted, but even knowing both of the killers unfortunate childhoods didn't make my sympathize with them at all. The murder is just too unnecessary and too brutal for that.
There's also some critiques about how "true" the book is. Capote never used a tape recorder during interviews, relying on his memory to get quotes right. And there are some accusations that he made up scenes in the book, making it more accurate to call this piece a "nonfiction novel" than straight nonfiction. I really don't know how much of that is true, but it's an interesting backstory of the book and one to keep in mind. That said, the core of the story — a well-off and well-respected family was gunned down in their homes by two former felons to who refused to show remorse — is true, and terrible enough.
Recommended?
I'm not sure whether I recommend the book or not. If you like true crime, or even if you're normally a mystery or thriller reader, I think you'd love this book. It would be a nice transition piece from crime novels into nonfiction if that's something a reader is interested in. But of those books don't interest you, then I don't think you'd like this one at all. So recommended, but with stipulations 🙂
Other Reviews: Lesley's Book Nook; Book Addiction; Bending Bookshelf;
If you have reviewed this book, please leave a link to the review in the comments and I will add your review to the main post. All I ask is for you to do the same to mine — thanks!