I live in Madison, WI, and yesterday we had a giant blizzard. A blizzard so big the entire city shut down — city and state government, public schools, both of the major shopping malls, and the entire University of Wisconsin. That's right, yesterday I had snow day!
Now, the snow day was awesome — I slept in, made a big breakfast, participated in a record-breaking snowball fight, and read a book for fun. It was glorious.
Today, the day after the snow day, was not as much fun. Roads were icy, sidewalks were unplowed, and the temperature reached a high of only seven degrees with a wind chill of -15 or so. Needless to say, by the time I picked my way home over the treacherous sidewalks and bone-chilling wind, I was grouchy. But then, to my surprise and joy, I found my Book Blogger Holiday Swap package sitting in front of my door. Hooray for the holidays and making a bad day so much better!
Here's what I got: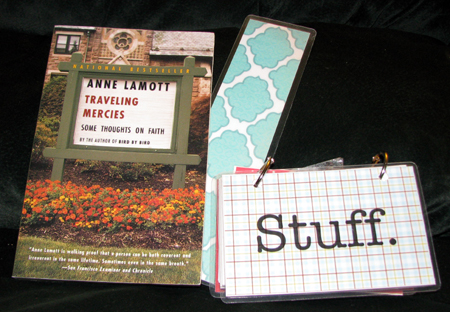 Anne Lamott is one of my favorite authors, but I've never been able to find her nonfiction books at the used bookstores I usually go to. So I am psyched to read Traveling Mercies! The little notebook that says "Stuff" on it has a bunch of indexcard sized pages, which are cool. I love office supplies — I can't wait to decide what to use it for. And the bookmark is beautiful too, my favorite colors!
So a big, big thank you to my Secret Santa, Chantele from There is Always Something to Read, for brightening up my cold and grouchy day!