I read Michael Pollan's The Omnivore's Dilemma and Barbara Kingsolver's Animal, Vegetable, Miracle back-to-back earlier this year as part of my semester-long class on food writing. While both look at what we eat, they approach the issue from very different directions. Pollan's book is a more academic look at the structures and politics that make up the food system, while Kingsolver's memoir applies some suggested reforms to her family's food choices for a year.
If you're a foodie, or someone just interested in learning about how the food system works, then I recommend taking a look at both books. But if you're just casually interested in the whole food issue, I hope this comparison will help you figure out which book suits your interests better.
Summaries and Scope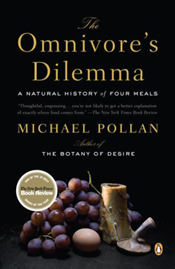 For The Omnivore's Dilemma, Michael Pollan decides to take on the question of what we have for dinner by following three different food chains — the industrial food chain, represented by corn; the pastoral food chain, represented by grass; and the personal food chain, represented by the forest. In each section Pollan picks a food and tries to trace it from origin to table. He travels around the country looking at corn fields and feed lots, big and small organic farms, and foods grown as close to his home in Berkley, California as possible. The book is expansive, trying to answer big questions with exploratory and, often, open answers.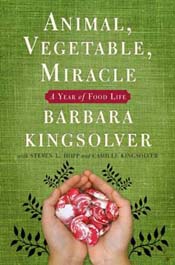 On the other hand, Animal, Vegetable, Miracle has a much smaller scope while still trying to answer big questions. In this memoir, Kingsolver's chronicles her family's challenges eating only locally-grown foods for a single year after moving from Arizona to the family farm in southern Appalachia. it's not a perfect system — each family member gets one cheat item, plus a few exceptions during the year — but in general they're able to make due, even thrive, on food from their garden and community with a lot of hard work and quite a bit of celebration. Kingsolver's husband, Steven L. Hopp, and her daughter, Camille Kingsolver, also contribute to the book, providing context and local food recipes, respectively.
Variations on a Theme
At first, these books seem to have very little in common other than the fact that they are about food. However, I think they hold similar values and come to many of the same conclusions. Although a more journalistic piece, Pollan's book clearly comes down as a critique of the industrial food system and a compliment towards people working outside that system. His profiles of farmers growing organic and working family farms are written with a sense of awe, while he expresses disgust and trepidation from his visit to an industrial feedlot:
So this is what commodity corn can do to a cow: industrialize the miracle of nature that is a ruminant, taking this sunlight- and prairie grass-powered organism and turing it into the last thing we need: another fossil fuel machine. This one, however, is able to suffer.

Standing there in the pan alongside my steer, I couldn't imagine ever wanting to eat the flesh of one of these protein machines. Hungry was the last thing I felt.
By the time Pollan get's to his final meal, one where he grew or killed or foraged for almost every ingredient on the table, it's clear that this type of meal is the one he holds as being better for us. While he doesn't expressly come out and say it, I think the argument of the book is that local, fresh, organic, responsible eating is the way we should go.
Kingsolver's book doesn't have the expanse that Pollan's does, but the entire premise of the memoir is that eating locally is something good we should aspire to do. Because it's a memoir, Kingsolver doesn't take on the assumption of journalistic independence or investigation, although she's clearly done a lot of research as background for the book and for her project. The book is a celebration of family and locality and knowing who grows your food and where it comes from. A running theme of the book is the importance of community, both the community of a family working together on a farm, but also the community created by networks of food and the food chain that binds people together.
A major difference between the two book is the view of what food represents. For Pollan, food is political and eating is a political act. What you choose to eat has broader implications than just the taste or your health — your choice is part of, or against, the industries behind food. But in Kingsolver, food is a much more personal thing. Certainly what you eat and how you consume has political implications, but the emphasis on the book is more about how food can preserve and maintain family, community, history, and connections. The argument of the book is emotionally driven:
What the fad diets don't offer, though, is any sense of national or biological integrity.  A food culture is not something that gets sold [in advertisements] to people.  It arises out of a place, a soil, a climate, a history, a temperament, a collective sense of belonging… A sturdy food tradition even calls to outsiders; plenty of red-blooded Americans will happily eat Italian, French, Thai, Chinese, you name it.  But try the reverse: hand the Atkins menu to a French person, and run for your life.
Although you can see the impact of politics on Kingsolver's argument, the message of this section and the book is how much what we eat is a part of who we are.
Theme's Impact on Tone
Given the difference and scope and theme, it's inevitable that the tone of each piece would be different. Pollan's piece is more like journalism that Kingsolver's book. He tends to get to the point, although certainly injects humor when necessary. Kingsolver's prose tends to move along slowly, basking in scene setting and storytelling. You get lovely insights into her family, humorous stories about her youngest daughter's work in the business of chicken farming, and extended descriptions of the garden throughout the year.
Which Book to Read?
If the previous sections haven't been enough to convince you which book (or both) to pick up, I'll try to leave with a few short anecdotes to help you figure it out.
The Omnivore's Dilemma is journalism on a mission, showing the political and social impacts of an industrial food system. It's punctuated with some self-deprecating humor, but the book mostly focuses on tracing the broadest possible scope of where food comes from. The book isn't practical, or full of advice, it's an exploration of a system.
Animal, Vegetable, Miracle is much closer, a memoir about how a family tries to live out the food ideals many people aspire to. Kingsolver's prose is lush, slow-moving, and personal. While there are some notes about the impact of local foods on a larger food system the book doesn't go far with that issue, choosing instead to write about making artisan cheeses and choosing a turkey for Thanksgiving Dinner.
So there you have it — a Pollan v. Kingsolver showdown. I'm not sure which book I enjoyed more, as I felt like both of them had some good and bad qualities. The biggest thing I wanted from both was more practicality — neither book does an especially good job addressing how the average person can change their food habits to thwart the system, but perhaps that's a job for In Defense of Food or some other such book.