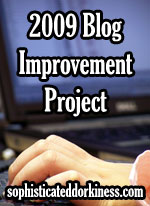 I'm doing my end of 2009/beginning of 2010 posts as one because I think a blog is something always growing — reviewing one year leads directly into how to improve for the next one.
For 2009 I set eight goals about reading and blogging, and was about 50 percent at finishing them:
Make time for personal reading — This I accomplished for sure. Most of the books reviewed were ones I chose for myself, and I kept my obligation books pretty low.
Review books within two weeks of finishing them — This was a big fail on my part, although I think I was better about it than in 2008.
Keep notes while I read — This was about half and half. I kept notes at the beginning of the year, but tended to throw them out after I wrote my review. I did better keeping my notes near the end of the year when I started carrying around a little red Moleskein notebook that I keep book lists and ideas in.
Blog more about journalism — Midway through the year I decided not to do this. This blog is for books, so I should only post about journalism as it relates to things I'm reading. That said, I would like to do more general posts about journalism and writing as it relates to the kinds of books I enjoy.
Alternate the length of my posts — This I definitely accomplished. Yay!
Leave more comments, about five per day — I'm not sure how to measure this, but I think I left more comments this year than last year.
Do research about self-hosting Sophisticated Dorkiness — Accomplished! I moved to my own space and domain name this year, which has been exciting!
Host the Blog Improvement Project successfully — This is hard to measure, but I feel like the year went well, so I'll say accomplished.
Given the things I did and did not accomplish this year, I came up with a few new and some old goals for my blog in 2010:
Review books in a timely manner. This means at least drafting up some ideas for my review soon after finishing the book. I also want to use more mini reviews and try new review formats to try and be timely about posting on books.
Continue to take notes while I read. Sometimes I didn't do this, so I want to keep working on it. The notes really, really help when it comes to writing reviews.
Look into ways to monetizing my blog. Nothing fancy, maybe just Amazon Affiliates or some advertising in the sidebar. I haven't explored this at all, so I at least want to think about it this year.
Acknowledge other bloggers. I want to do more to connect with and recognize good things in the book blogging community. I'm not sure if this means doing more link posts, featuring comments, or what, but I want to reach out a little more this year.
Start my Nonfiction Five feature. I've been toying around with the idea of a new feature, Nonfiction Five, where I'd pick a topic(say, Zimbabwe or Messy Childhoods) then put together a list of five nonfiction books on that topic. I want to get that started this year, then see if I can pull in some guest posts and suggestions for topic lists.
Give myself permission to step away. Sometimes everyone needs a break from blogging, and should be able to take one without feeling guilty. I want to not feel bad about taking some time off from posting, reading, commenting, whatever. I need to let myself off the hook sometimes.
So that's what I've got. Here's a toast to 2009, and some excitement for 2010 🙂