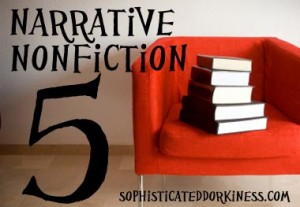 One goal I set for myself this year is to do more with nonfiction on my blog. One way I've decided to do that is through a new semi-weekly feature: Narrative Nonfiction 5. Every few weeks or so, Narrative Nonfiction 5 will feature a list of five nonfiction books on a particular theme.
As the title suggests, I'm focusing specifically on narrative nonfiction. That term can encompass a lot of things, but for me it means nonfiction books that use techniques of fiction — plot, characters, dialogue, symbolism — to tell a good, true, story. Genres that might fall into this category include creative nonfiction, literary journalism, memoirs, personal essays, and more. It does not include things like textbooks, self-help books, how-to books, or other nonfiction that doesn't even make an attempt at storytelling.
Obviously, these distinctions are fluid and changing and sometimes don't mean much. The idea with focusing on narrative nonfiction is that I think the genre provides a way for people who don't like nonfiction or are afraid to read nonfiction to get into the genre easily. Narrative nonfiction can make nonfiction accessible and I hope encourage people to try reading more true stories.
The other thing I'm excited about with Narrative Nonfiction 5 is the chance for reader interaction. If you have a topic you'd like to see a list about, e-mail me your idea and I'll include for a future list. And if you have a topic you'd like to write a Narrative Nonfiction 5 post about, I would love a guest post on topics I'm not as familiar with.
I'm posting the first Narrative Nonfiction 5 post tomorrow, so stay tuned!