Hunter S. Thompson is one of those writers a reader seems to either love or hate. I've never read Thompson for a number of reasons, but I always felt like I should if I planned to blog about literary journalism extensively.
A few months ago Care (Care's Online Book Club) said she was starting her own John Cusack Reading Challenge, I was a little surprised to see Thompson's giant book Fear and Loathing on the Campaign Trail '72 on that list. I mentioned I wanted to read the book too, and lo-and-behold a mini-read-a-long was born.
This post is a bit of a journalistic introduction to Hunter S. Thompson and the movement he was writing in. Care is planning a post introducing some of the big players and historical events in this book — a bunch of stuff I had no idea about — which you should look for soonish too!
The New Journalism Movement
The New Journalism movement has traces all the way back to journalists like George Orwell and Mark Twain, but really got it's start in the 1960s and '70s. Journalists at the time felt like the sort of straight newspaper reporting that had been done wasn't adequate to really express what it was like to live during their time when the world was rapidly changing and so many cultures and subcultures were being born (Sims).
New Journalists wrote primarily for magazines, which gave writers like Thompson, Truman Capote, Tom Wolfe, Norman Mailer, Joan Didion, and others the space they needed to explore stories in depth without the same pressure for objective reporting that mainstream newspapers required.
Each of the main New Journalists had their own unique style, voice, and agenda in writing stories. Truman Capote, for instance, is known of his extensive reporting without note-taking and the invention of the nonfiction novel with In Cold Blood. Joan Didion wrote a number of personal but journalistic essays that looked at ideas of fragmentation and anxiety.
Hunter S. Thompson and Gonzo Journalism
Of the New Journalists, Thompson is best known for "inventing" the idea and style of gonzo journalism,
[a] style of journalism which is written subjectively, often including the reporter as part of the story via a first person narrative. The style tends to blend factual and fictional elements to emphasize an underlying message and engage the reader.
One of Thompson's more famous gonzo journalism books is Hell's Angels: A Strange and Terrible Saga of the Outlaw Motorcycle Gangs in which he paints a portrait of  the group by spending more and more time with them, sometimes even inviting them to his house for interviews and general hanging out. Thompson is so involved, in fact, that the line between observer and participant blurs beyond recognition. In one controversial scene, Thompson witnesses the Hell's Angels gang rape a young woman at a bar. Thompson has been critiqued both for watching the rape happen and by the tone he used to write about it in the book. However, Hell's Angels is also considered to be one of Thompson's most factually accurate books.
His most famous work is probably Fear and Loathing in Las Vegas, a book that "contributed the most to creating a personal for Thompson as a drug-crazed counterculture great, and it has only tenuous connections with objective reality," said author Norman Sims. The book is based on some drug-hazed visits Thompson took to Las Vegas with his lawyer, although the plot rambles and often becomes surreal.
At the risk of quoting Sims too much, I really love a description he gives of Thompson in his book True Stories: A Century of Literary Journalism:
Thompson was an abstract expressionist among the New Journalists, adapting Jackson Pollock's drip paintings to prose. Yet, like Picasso, when he wanted to he could also paint in a representational style. His abstract journalism required the reader to interpret the artist's mind in order to understand the subject matter.
My Fear and Loathing
I've always been a little intimidated to read Thompson. There's something about his status as one of the founders of a movement combined with his totally-out-there style that has made me avoid most of his works. I've never been sure that I really want or need to read the drug-influenced writings of a 1960s journalist, even if he can be like Picasso when he wants to.
Knowing about some of Thompson's choices, particularly the rape scene in Hell's Angels, is also what's made me dislike him. I get the principles of in-depth reporting, the idea of joining a group and trying to understand them, but there has to be a line you just don't cross. From what I know, Thompson didn't have lines, or if he did they were blurred through excessive uses of drugs and alcohol. I'm also skeptical about the radical ways in which Thompson makes not attempt to balance out his opinions and biases in his writing, although there are many, many writers who do the same thing.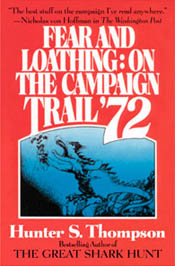 In any case, now is the time that I've decided to get over some of these things so that I can be a more well-informed reader/writer/critic of journalism — hence this little read-a-long. I'd like to end with one last quote from Thompson himself about why he wanted to write Fear and Loathing on the Campaign Trail '72, which was printed in Sim's book:
With the lone exception of the 1960 presidential campaign, I've gone out of my way to avoid any personal involvement in politics … but I have the feeling that we're down to bedrock again, and if that's the case I guess I want a piece of the action. Nixon is a monument to all the bad genes and broken chromosomes that have queered the reality of the 'American Dream.' Nixon is the Dorian Grey [sic] if our time, the twisted echo of Jay Gatsby — the candidate from almost-Los Angeles. I'm not looking for a career in politics or even a dam for Woody Creek. All I really want to do is get that evil pickf**ker out of the White House and not let Nixon in … and the only real hope I see right now is you friend Robert.
I suspect we're in for an adventure.