Happy Monday, everyone! I wanted to use today to introduce you to the newest member of my family, my cat Hannah. I adopted Hannah from the Dane County Humane Society on Saturday, and so far things are going really well. She's a sweet, mellow cat, but she loves to play too. She also loves to stick her head in my books and climb all over me when I read, so that might be an adventure.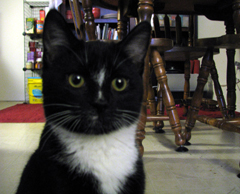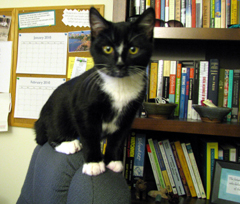 I've never had a cat before, so I'm learning as I go along. Right now she's rampaging around my kitchen laying with this poofy glitter ball — it sort of looks like she's playing soccer by herself!
Today is also the first task in the 2010 Blog Improvement Project, so you should head over there to check it out. Jackie (Farm Lane Books) did an awesome job with it, so check it out even if you're not officially signed up. It's never too late to join.
Ok, I'm out, but I'll be back with book-related things tomorrow.