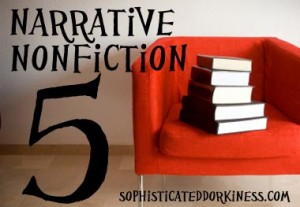 The inaugural edition of Narrative Nonfiction 5 features five books by authors that went in-depth covering "current" events in the United States. I put current in quotes because most of these books are more than 10 years old, which makes current a bit of a stretch. Still, I'm fairly confident many of these issues haven't changed so much that the lessons of the story aren't relevant today.
The authors of these books spent an extensive amount of time with the subjects they covered, which resulted in books with rich details and a level of nuance about subjects many people don't get the chance to understand.
1. Random Family by Adrian Nicole LeBlanc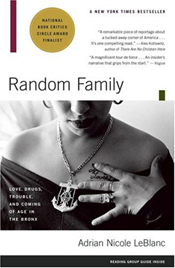 In Random Family, journalist Adrian Nicole LeBlanc spent 10 years living in the Tremont Avenue area of the Bronx. She follows the twisting lives of two couples — Jessica and her heroin dealer boyfriend Boy George, and Jessica's brother Cesar and his on-again/off-again girlfriend Coco. Over the time LeBlanc spent there, three of the four ended up in jail, while Coco mothers more children than she can afford.
I read this book earlier in the year after it was named on one of Newsweek's Fifty Books for Our Time. I think it's earned that reputation — LeBlanc writes about her subjects with sympathy, but also honesty, not sugar-coating their actions or the potential implications. It's an enlightening book, both for its subject and the effort that LeBlanc went into reporting and writing this story.
Politics can be supremely fascinating, or really dull, it just depends how it's written. Luckily, Buzz Bissinger's book A Prayer for the City makes it awesome. In order to write Prayer for the City, Buzz Bissinger was granted 24-7 access to Ed Rendell during his first term as mayor of Philadelphia and his staff. Bissinger spent four years with the administration while they worked to deal with an out-of-control budget, overly powerful unions, and racial tensions that threatened to tear the city apart. He saw negotiations, meetings, and a tremendous number of private moments where Rendell started to fall apart.
What works best about this book is that although Bissinger likes Rendell, he doesn't let him off the hook. Bissinger profiles a number of Philadelphia residents (who both like and dislike Rendell) to humanize the political topics Rendell is dealing with. The book is a long-term, insider look at a man and what it takes to be in charge of a major U.S. city. It helped me to see politics from this perspective because it gives a sense of why politics can do good or get stalled up and do no good at all.
I haven't reviewed Nickel and Dimed on this blog, but I did read it a number of years ago in college. In the book, Ehrenreich goes undercover to explore what impacts welfare reform had on the working poor. Between the spring or 1998 and summer of 2000, Ehrenreich worked minimum wage jobs in Florida, Maine, and Minnesota for a month each to see if she could live off those wages. In most cases, she could not.
This book is on the list because it's such a well-known book, and a good example of undercover journalism on an important topic. But unlike the previous two books on this list, Ehrenreich doesn't attempt to be an unbiased observer of the story — this is her lived, editorialized, experience. I don't think that makes the reporting less valid or accurate, it's just a different way to get at the issue of the urban and working poor.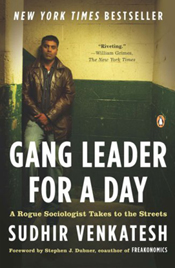 In Sudhir Venkatesh's memoir Gang Leader for a Day, Venkatesh writes about his years studying the Robert Taylor Homes in the ghetto of Chicago. Venkatesh was a young sociology student when he first entered the Robert Taylor homes, but with a stroke of luck (and stupid bravery), he became friends with a local gang leader, J.T., which gives him access to study the underground economy of the area.
I enjoyed this book because, again, it provided an intimate look at a place I don't have any conception about. It changed some of my opinions about gang life and gang influence as well as frustrated me with how little anyone seemed to be able to do. The book is also problematic because of Venkatesh's methods — he often was oblivious to the serious problems his research might have caused his subjects. However, he was honest about his mistakes which is something to be happy about.
This is the one book on the list I haven't read, but I've heard good thing about it a number of sources. Kotlowitz was a Wall Street Journal reporter who met brothers Lafayette and Pharoah Rivers in 1985 when they were living in the Chicago ghetto. There Are No Children Here follows them boys growing up with their mother, absent father, and siblings, in a housing project controlled by gangs and respond to their challenges in very different ways. The book takes place in a similar time and place to Gang Leader for a Day, but the focus on two children is very different which makes it a book I hope to read and would love to learn more about.
Thanks for reading through my first Narrative Nonfiction 5 post! If you know of other books on this topic, I'd love to add them to the borrow of the list! Also, if you have suggestions for a Narrative Nonfiction 5 post or would like to write a guest post, please send me an e-mail at sophisticated.dorkiness [at] gmail [dot] come.