This has to be a pretty quick TSS post because I have people coming over to watch the Superbowl in a couple hours and I have cookies to bake and soup to make.
One of the best things about only taking two classes this semester is the extra time I've found to read. Yesterday I was able to finish "Socialism is Great!" A Worker's Memoir of New China by Lijia Zhang. This was the first book I decided to read off my Women Unbound reading list, and it was a good one.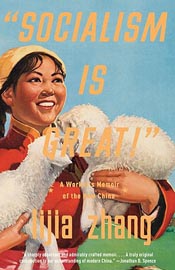 Zhang's memoir covers her life going from a student to worker in a state-run weapons factory and her continual efforts to get out of factory life. It was perfect for Women Unbound because it showed how different life is for women in a culture where men remain superior and family relationships trump any sort of individual desires.
One thing that struck me about the book was the way being an author from a different country impacted the metaphors and similes that Zhang used. The comparison and language was just beautiful, and I love the tone that using those phrases brought to the book. Here are some of my favorites, although I didn't mark all of the great ones:
Battered by the cold wind, I drew in my neck like a turtle and pushed my hands up the spacious sleeves of my old-style jacket.

Their boss Fatty Wang was a severe woman, which is why I never dared to visit the section. She used to be slim, I heard, but after giving birth to her son she swelled like yeast dough.

I longed for his letters like a plum blossom longing for spring.

Even my parents had calmed down. Like two irregular gears, after a period of clashing, the sharp edges were worn off, and they were learning to coexist peacefully — for the most part.
I guess it's a little obvious that authors from a totally different place than me would have both a different frame of reference and different understanding of English and that difference would impact how the story is written. But I thought it was lovely, and her style gave me some inspiration for my own writing and trying to find new ways to say simple things.
What are some of your favorite similes, metaphors, or phrases you've seen from authors of a different culture? Do you have any other favorite memoirs or books about modern China?