I'm combining three of blog-business posts into one with this, because I don't like it when my blog gets overrun with posts not actually about books.  This week, Weekly Geeks wanted to look at commenting, a topic I think is really important to think about as a blogger. The task for the Blog Improvement Project is to look into categories and tags — two administrative tools that help keep blogs organized and can help search engines find you blog. And finally, a few bloggers (My Friend Amy, Beth Fish Reads, others?) posted social media policies yesterday, which inspired me to do the same.
Commenting

For pretty much the best post on commenting I've read in a long time, you should check out this post by Care at Care's Online Book Club. She pretty much lays out everything I think about commenting, but in a much more entertaining way than I probably will. In a nutshell, here's how I think about comments here at Sophisticated Dorkiness:
I try to respond to all comments here on the blog post. I do that because I like future readers to be able to see the thread of conversation. If a comment needs more than that, or I'm not sure the commenter will check back, I try to respond via e-mail or by leaving a comment on that blog.
Sometimes I'm slow responding to comments (read, a day or two after the post). I probably won't change that, I just wanted you to be aware 🙂
I am going to try to be better visiting blogs of people who stop by to leave comments. That's not something I've done in the past, but I want to get better about it.
I don't normally delete comments, but reserve the right to do so if they're rude to me or other readers. I can take criticism, but let's keep it civil.
That's about the extent of it. I really, really appreciate every single comment I receive and try to reciprocate the general warm fuzzy feeling of comments to other people.
What are some of your philosophies on commenting? Anything important I'm forgetting?

Categories and Tags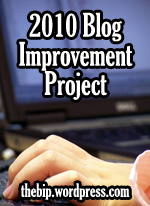 This post is an anomaly in that I put it in three categories. Normally that's not a great idea, but there are always exceptions. I have a pretty long list of categories which include:
Authors: For posts specifically about an author or their life.
Book Review: Self explanatory, right?
Challenges: This has three sub-categories — 2009 BIP, Blog Improvement Project, and Women Unbound. I don't join many challenges, so this category is small.
Communities: This has four sub-categories all for that get used pretty frequently since I'm a big believer in community activities.
J-School: For posts specifically related to journalism school notes. I won't be using this one much in a few months when I graduate (eek!!!)
Journalism: For thoughts on journalism issues more generally, a category I want to use more soon.
Metadiscourse: This is my favorite category. It's just a fancy word for posts about this blog or blogging.
Musings: Random stuff I'm thinking about.
Narrative Nonfiction 5: My new feature!
News and Notes: Info about news happening about books or other events.
So far, these categories have been working pretty well for me. This week I plan to write up some good descriptions of these categories and create a page for them, since some of them might not be self-explanatory.
Tagging is something I've never been very good at. I have a small list of tags I usually use, but after reading some of the links from the BIP post this week I think it's important to use more tags rather than less. I'm going to start making sure to include tags for authors, genres, and other nouns relevant to the posts.
My Social Media Policy
This section is about how I generally use various social media across the web. This policy is evolving and changing and I'm always looking for ways to do it better. Suggestions are always, always welcome.
Blog: As stated above, I try to respond to all comments and visit bloggers that comment. I try to comment on as many blogs as I can, but, like everyone, I read way more blogs than I have time to comment on. That sucks, but it's the truth.
E-mail: To the best of my ability, I answer all e-mails directly to me that from other bloggers that ask questions or give feedback. I don't respond to book pitches for books that I'm not interested in because I think it's a waste of time for both parties. Please don't take that personally, it's just easier.
Facebook: My Facebook account is, generally, for my in real life friends and family. I do very little bookish publicity or discussion there. I also don't go out of my way to friend people, but feel free to find me if you want to read status updates about my cat, The Office, or links to awesome xkcd comics.
Twitter: I don't follow everyone because, frankly, I get a lot of weird followers. I do try to respond to any @ replies and conversations. Please join in!
Ning/Goodreads: I'm on both Ning and GoodReads, although I'm not very active. Feel free to find me there if you choose.
Thoughts or impressions of any of the above bloggy-business things? Let me know in the comments (to which I will respond, I promise!)