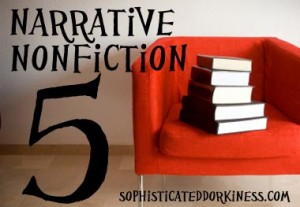 Since March is Women's History Month, I decided to do my second Narrative Nonfiction 5 list on female writers that use this form. When the New Journalism of the 1960s stared, there weren't many women writing as part of the moment but in the years since it's opened up and you can find women writing really amazing narrative nonfiction on a host of subjects.
I gathered this list from scouring the index of True Stories by Norman Sims. I haven't read books by all of the authors, but (predictably) researching for this list has made me really want to try them!
1. Joan Didion
Joan Didion is one of the first writers of New Journalism (narrative nonfiction), and the first female to do so with a national profile. She's a prolific writer who's published five works of fiction, 11 nonfiction books, one play, and five screenplays, plus numerous essays and other news stories. In interviews, Didion credits Ernest Hemingway, Henry James, and George Eliot and influences on her writing. If you enjoy those styles, I think you'd enjoy Didion.
The first Joan Didion book I read was Slouching Towards Bethlehem, her second book of nonfiction, and I loved it. It's hard not to admire her as a writer and reporter for the way she gets subjects to open up to her. She's also a little ruthless in the way she isn't afraid of making those same people look foolish in order to push forward her themes about disillusionment and counter-culture.
She recently came out with a memoir, The Year of Magical Thinking, about the year after her husband of forty years, John, passed away unexpectedly from a "massive coronary event." I found the memoir totally beautiful and, despite the topic, not depressing. I highly recommend this book too.
2. Patsy Sims
Patsy Sims is am American author who grew up in Texas and Louisiana. She has written three books: The Klan, Cleveland Benjamin's Dead: A Struggle for Dignity in Louisiana's Cane Country, and Can Somebody Shout Amen!: Inside the Tents and Tabernacles of American Revivalists. The last book on the list was a noteworthy book of 1988. Currently, Sims is the Director of the Nonfiction program at Goucher College.
3. Susan Sheehan
Susan Sheehan is a journalist from the United States, but was born in Vienna, Austria. She won the Pulitzer for nonfiction in 1983 for her book Is There No Place on Earth for Me?, a story about a woman diagnosed with schizophrenia and her experiences in different treatment facilities. More recently, she explored the child welfare system in her 1993 book Life For Me Ain't Been No Crystal Stair, which takes it's title from Langson Hughes' poem "Mother to Son."
4. Susan Orlean
Susan Orlean is an author that I've read and enjoyed pretty frequently. Last year Nicole (Linus's Blanket) and I did a co-review of The Orchid Thief, Orlean's book about the world of orchid hunting and obsession. I also read one collection of Orlean's essays, The Bullfighter Checks Her Makeup, while on vacation last year.
I actually like what I wrote about Orlean in my review of The Bullfighter Checks Her Makeup, so I'm going to quote it here:
After reading the entire collection straight through I don't think Orlean's writing style is spectacular. Her prose is clean and lyrical, but after 290 pages of profiles meant to be read separately you can start to see the writing patterns and techniques that Orlean utilizes. However, whatever criticisms I have about Orlean as a writer (which aren't many, I'm just uber-critical), are blow away by how great Orlean is as a profiler. In each of the essays, Orlean writes details about her character and scene in the first paragraph, then goes on to tell that person's story without seeming to over-dramatize or minimize the experience. This is the reason I recommend the book, but suggest reading it in small doses instead of straight through.
If you want to read more, some of Orlean's other famous books include: My Kind of Place, Throw Me a Bone, and Saturday Night.
5. Rebecca West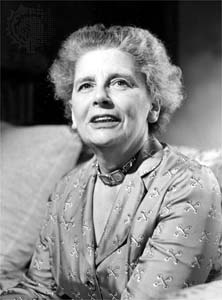 Rebecca West (1892-1983) is the pen name if Cicely Isabel Fairfield, an English writer and journalist who write extensively about feminist and liberal principles as well as reviewed books during her long career. She published 16 works of nonfiction, which included books of essays, journalism, biography, and travel writing.
Some fun facts about West include that she carried on an affair and had a child with H.G. Wells, was a vocal advocate of the feminist movement and gave lectures on the subject during the 1920s, and was quite wealthy due to her writing career. West was famous for a number of works of nonfiction and fiction.
Some of her nonfiction that seems most interesting to me includes Black Lamb and Grey Falcon (1941), a "classic of travel literature" that uses a 1937 trip to Yugoslavia to explain the history of the Balkans; The Meaning of Treason (1949), a look at WWII and Communist traitors; and The Young Rebecca (1982), an edited collection of her early journalism.
Bonuses: There are a lot of great female narrative nonfiction writers that I didn't get the chance to write about in this particular list. Below are some others I found, plus a link to their most famous, most recent, or most interesting book.