Sometimes I think a book comes along at just the right time — it hits a chord you didn't know needed to be hit, or speaks on some way that makes the impact of the book more than the sum of its part. That doesn't diminish how good the book is, just amplifies what its about.
This week, I had one of those books — Making Toast by Roger Rosenblatt.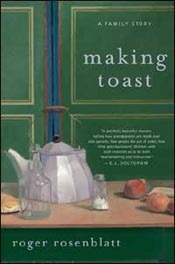 Making Toast is Rosenblatt's memoir of the time just after his 38-year-old daughter Amy's unexpected death from a rare heart condition. The day of Amy's death, Rosenblatt and his wife Ginny move in with Amy's husband Harris and their three grandchildren — seven-year-old Jessica, four-year-old Sammy, and one-year-old Bubbies (aka James). Over the next year, Rosenblatt and Ginny learn to be part of a new routine, finding a way to cope with Amy's death by trying to fill in as best they can for a family learning to survive without their mother.
The book's magic lies in it's simplicity. The memoir is made up not of a single narrative, but of a series of moments that build to a story about family, grief, and trying to build a new life after the inexplicable happens. And Rosenblatt never overstates these moments, just lets them work for himself. Take, for example, this anecdote where the title of the memoir comes from:
I wake up earlier than the others, usually around 5 a.m., to perform the one household duty I have mastered. After posting the morning's word, emptying the dishwasher, setting the table for the children's breakfasts, and pouring the MultiGrain Cheerios or Fruit Loops or Apple Jacks or Special K or Fruity Pebbles, I prepare toast. I take out the butter to allow it to soften, and put three slices of Pepperidge Farm Hearty White in the toaster oven. Bubbies and I like plain buttered toast; Sammy prefers it with cinnamon, with the crusts cut off. When the bell rings, I shift the slices from the toaster to plates, and butter them.

Harris usually spends half the night in Bubbies's little bed. When I go upstairs around 6 a.m., Bubbies hesitates, but I give him a knowing look and he opens his arms to me. "Toast?" he says. I take him from his father, change him, and carry him downstairs to allow Harris another twenty minutes' sleep.
I like that section because of how much it says so many things about routines and the love from parents and grandparents and the ways in which life changes in an instant but the simple things, like making breakfast, still have to keep going.
I don't think I can rate this book because it was exactly what I needed to read this particular week and that timing is linked to why I loved it so much . I'd had a really stressful week where things just never felt like they were working for me and I needed a way to let all of that go so I could get ready to move on to next week. I started reading Making Toast on Thursday and started crying within the first five pages. Not because the book is so terribly sad, but because it was so beautiful and simple and emotional in a way that allowed me to let everything go. It let me channel all of the negative feelings I was having through the story and by the end I just felt better.
I would have loved this book any time I read it — Rosenblatt's writing is clean and purposeful and he writes with such love for every single one of the people in the story that you can't help get pulled in. It's a lovely little book that I sat down and read in an afternoon, and I think lots of other people should read it. But I can't rate it. I can't put a number for the book because it impacted me in a much bigger way. That's one of my favorite experiences of reading, and one that I can only hope every reader understands.
What's the last book you read that hit the perfect emotional chord making it even greater than the sum of the book's parts?