Last week was my Spring Break, but I didn't really get much reading done because I was distracted and my brain was basically shut off. On Thursday Boyfriend and I took a mini-vacation to Chicago because, despite living in the Midwest, I'd never actually been to Chicago before (except for O'Hare Airport).
On the three plus hour drive there we traded some of our favorite artsy things from or about Chicago. His main contribution was the song "Chicago" by Sufjan Stevens, off his album Come On Feel The Illinoise:
My best Chicago pop culture/art reference was Carl Sandburg's poem "Chicago" from his 1916 book Chicago Poems. I remember reading this poem in both high school and college for some intro English classes, and always loved really defiant way Sandburg writes about his city.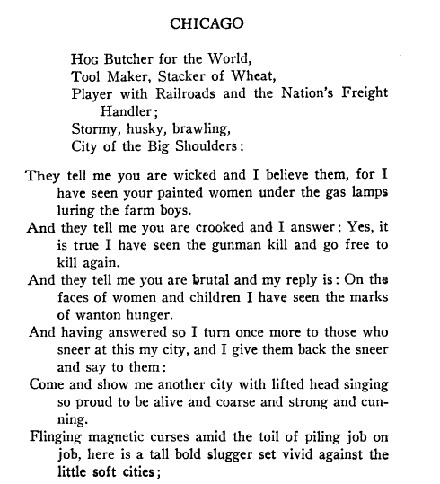 While we were in Chicago we did a lot of the typical Chicago things — Grant Park, Millennium Park (where we got to see "the Bean"), the Chicago Institute of Art, Gino's Pizza, and a view of the city from the Signature Room on the 96th Floor. All in all, a nice way to take a break during Spring Break. Still, there are a tono f things to visit again and I can't wait for another trip.
What are some of your favorite books, movies, songs, or poems about Chicago?