I saw this meme going around awhile ago where bloggers would list where their last 20 books came from. I just read my 20th book for the year, so I figured it was about time to check out those stats for 2010. After I ran the numbers, here's what I found: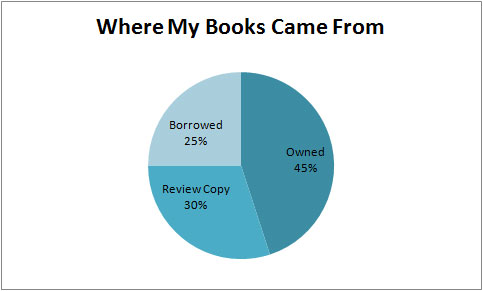 Borrowed includes both books from the library and books from friends. Thirty percent is actually a higher number of review copies than I expected.  I think if I ran numbers for every book read since I started blogging, the percentages would skew a lot further towards owned books. Still, with my next 20 books, I'd like to see the owned section get to around 60 percent.
Another stat I was curious about what what the genre breakdown of the books I've read this year is. Here's what I found: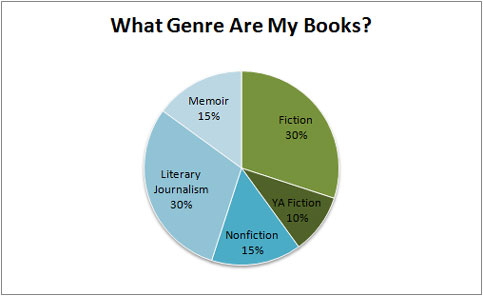 I'm sort of weird about genres and levels of specificity, so I colored the graph to show fiction categories in green and nonfiction categories in blue. Generally, I read about 60 percent nonfiction categories and 40 percent fiction — a pretty good breakdown for me, I think.
If you're curious to know more about these books, check out my Review Archive (which lists all my books from this year). I also have a Reviews by Author page where you can search for specific titles.
What kinds of stats do you keep on the books you read? Any idea how your books break down by genre, source, or other factors? Which genres do you think I should read more of?