Hello to everyone stopping by from BEA and the Book Blogger Convention! This post is just a quick introduction of myself if we didn't get to chat long when we met. If you scroll down to the bottom of this post, you can read my plans for BEA and how to contact me.
About Sophisticated Dorkiness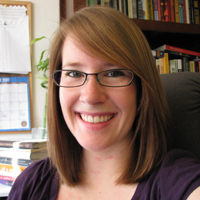 Sadly, I'm not really the South Park character on my business card. I'm just a regular girl blogging about books. I've been writing here at Sophisticated Dorkiness for just over two years.
I just recently received my master's in journalism from the UW-Madison, which was exciting. By day I work as a trade journalist for a magazine based in Madison, and by night I'm an avid reader, blogger, and freelance journalist. My most recent piece — "Down on the Farm" — was published in the arts section of the Wisconsin State Journal last weekend.
I primarily read and review nonfiction, narrative nonfiction, and literary fiction, although I delve into other genres like YA fiction and comic books when the mood strikes — check out my Review Policy for more information. I also like to blog about blogging and co-host the Blog Improvement Project.
I do a semi-regular feature called Narrative Nonfiction 5, where I try to highlight five nonfiction books on a particular topic. Future lists will include football, city politics, and dysfunctional family memoirs. I'm very excited about those.
If you have a potential book for review, a freelance piece you need written, or just want to chat, please feel free to e-mail me at sophisticated.dorkiness [at] gmail.com. I'm also on Twitter @kimthedork.
Plans for BEA
I'm flying to New York early on Thursday morning, getting in (I hope) right around late lunch time. I'm heading over to the Javits Center to get a little taste of BEA before the Book Blogger Reception from 4 – 6 p.m. – can't wait for that!
Then, I'm not sure what else until Friday except, at some point, hanging out with some very cool roommates – Sheila (Book Journey), Care (Care's Online Book Club), and Esme (Chocolate and Croissants).
Friday morning I'm up and heading to the Book Blogger Convention where I'll be on the Writing and Content panel (right after lunch), moderated by Rebecca (Book Lady's Blog) and with panelists Christina (Stacked), Amanda (The Zen Leaf), and Betsy (Fuse 8 Production). Be there or be square!
And that's all I have planned. My plane doesn't leave until Saturday afternoon, so I'd love to meet up with people Friday night and Saturday morning. I'd love to see some New York indie bookstores or something, I've just been too nuts the last couple weeks to plan anything.
Contact Information
I'm available by e-mail during the conference – sophisticated.dorkiness [at] gmail.com – but probably won't check it super often.
I also get Twitter DMs as texts on my phone, so feel free to contact me that way too. I'll also have my cell for texting – let me know if you want that number.I can't wait to meet you all (and kick the Terrible Cold I seem to have developed overnight, gah!).