The hilarious Raych at books i done read calls her mini-reviews "reviewlettes" and I love that. I borrowed the term from her to describe some short reviews of books I didn't have a ton to say for, and I hope she doesn't mind!
---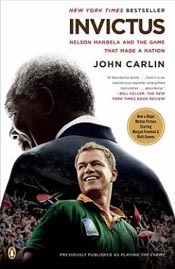 Title: Invictus
Author: John Carlin
Genre: Literary Journalism
Year: 2008
Acquired: Borrowed
Rating:





Summary: Nelson Mandela became president of a terribly divided South Africa in 1985. He put most of his political eggs in one basket when he convinced the nation to all get behind the national rugby team — the Springboks — a former symbol of white supremacy. The chances for the Sprinkboks to win the Wold Cup were pretty slim, but with Mandela's charisma and some good karma, the team succeeded and helped bring the nation together.
Review: After a friend and I went to see the movie Invictus — starring Morgan Freeman (whom I love) and Matt Damon (who is just gosh darn adorable) — she bought the book to read and I borrowed it. The book doesn't quite capture the same emotional intensity of the movie, but certainly puts Mandela's efforts to unite South Africa into context. The book tends to name drop a little bit, and with so many characters to keep track of it could sometimes be confusing. But this is the prototypical inspirational sports story, and for that reason I pretty much had to enjoy it.
---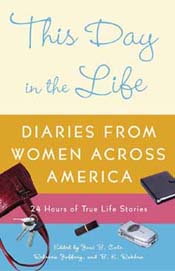 Title: This Day in the Life: Diaries from Women Across America
Author: Joni B. Cole, Rebecca Joffrey, and B. K. Rakhra
Genre: Memoir
Year: 2005
Acquired: Bought
Rating:





Summary: This Day in the Life is the third collection in a series created by Joni B. Cole, Rebecca Joffrey, and B. K. Rakhra. In each, the authors ask women from across the United States to keep a diary for a single day, highlighting everything the do or feel. The book then collects those diaries, printing many in full and using excerpts from others. The result is a picture of what a "typical" day is like — if you can call any day truly typical.
Review: I've read both previous books in this series, and as expected this one did not disappoint. Reading the day dairies is funny, emotional, and relaxing. There's something comforting about knowing there are other people going through the same types of ups and downs and having the same times of insecurities that I feel almost daily. As with the previous books, I feel like the collection skews a little old, but that could just be my bias showing through. I think this would be a fabulous read for the Women Unbound Challenge.
---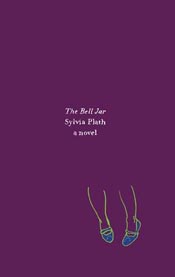 Title: The Bell Jar
Author: Sylvia Plath
Genre: Fiction
Year: 1971
Acquired: Sent from publisher in giveaway
Rating:





Summary: Esther Greenwood is a young woman from the suburbs working her first internship in New York City. She doesn't love New York, instead feels confused by the city and her colleagues, not sure what she wants to do. After being rejected from a writing course, Esther goes home for the summer where she becomes increasingly depressed and tries to commit suicide multiple times. She is diagnosed with a mental illness and is eventually admitted to a mental hospital where she receives electroconvulsive therapy and tries to work though the issues that sent her there in the first place.
Review: I'm not sure what there is to say about The Bell Jar since it's such a well-known work. I really enjoyed reading it, despite the depressing and difficult topics. There was something about Esther that I really connected with — maybe her circumstance or her sense of dry humor or the matter-of-fact way that she described everything, even in the depths of her illness. In some ways the book is quite funny, even if the humor is tinged with a hint of despair. It's definitely a book I recommend reading.