I'm so excited to get to announce the that Andi (Estella's Revenge) and I are starting an online book club about food, BookClubSandwich.
We're going to read all sorts of things — memoirs about food, nonfiction on seasonal food and food politics, fiction with a strong food element. There are a ton of food books out there, so I have no doubt we'll be able to pick some interesting ones.
One of our potential taglines is "An online book club for foodies and wannabes" which I think describes it pretty well. You don't have to be one of those people that always shops at the farmer's market and makes their own bread and only eats locally, sustainably and organically grown food to participate.
Goodness knows I'm not — I fall squarely in the "wannabe" category.
What I hope you are is interested. Interested in talking about those things, debating their pros and cons, and talking about how regular people can make changes to the way they eat.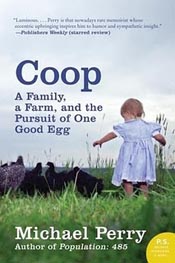 Our first book is going to be Coop: A Farm, A Family, and the Pursuit of One Good Egg by Michael Perry (or, alternatively, Coop: A Year of Poultry, Pigs, and Parenting if you grab the hardcover). I've wanted to read this book forever, and I think lots of other people too, so I'm confident it'll be a great first book for our book club.
We'll be discussing the book over at Andi's blog on Monday, August 16. She'll post a review of sorts, plus questions and discussion ideas and open it up there. Over the week, we encourage you to write your thoughts and link to that post or engaged with other readers in the comments. About a week later, I'll try to sum up the discussion in another post and add any other thoughts.
Then, we'll move on to picking another book and setting another date (both TBD).
We're both really excited, we hope you'll join us for BookClubSandwich!
P.S. A big thanks to Andi's fellow Chuck for the logo — check out his company if you need some designing done. We'll have a nifty sidebar-sized one soon!