A long time ago I used to do a weekly link round-up called Monday Tally. I'm going to try to start that up again, using it as a space to highlight some of the best links I've read over the past week. Here we go!
Things to Think About
The New Yorker asks an expert about the meaning of "sophistication" — interesting given my silly new feature. Here's part of what Faye Hammill has to say:
Sophistication is something we intensely desire, yet also fear. Most people probably want to be thought sophisticated, and today the term is normally used in a highly positive sense—for instance, to sell everything from perfumes and luxury holidays to cars and electronic goods. But in earlier centuries it had less attractive meanings, including disingenuousness, adulteration, and perversion, and traces of that distrust persist in modern culture.
I also started blogging as part of my new job. My first blog was about my dad and Grey's Anatomy (so dorky!)
Some studies suggest that workers who telecommute or have flexible schedule actually work more before they say their job interferes with family.
Anastasia (Bird Brain(ed) Book Blog) gave some advice about how to knock down your TBR pile — funny!
An unemployed former food critic writes about what it's like to live on food stamps. This is a must-read article.
The E-Reader Debate
I'm getting an e-reader, so I read a bunch about them this week. The New York Times included thoughts of a novice e-reader and WIRED wrote about the desire for a universal ebook format. Consumer Reports also has an extensive e-reader guide that I've found really helpful.
Andi (Estella's Revenge) left a great comment on my post asking for help, then did a comprehensive review of the pros and cons of her Nook. This was a supremely informative post.
Books for My TBR
Raych (books i done read) gave eight caterpillars to The Language of Clothes by Alison Lurie, an oldish book about what clothes mean.
Amy (Amy Reads) reviewed Say Everything by Scott Rosenburg, a book about the history of blogging. I already read this, but it's a great book that you should read too!
Reagan (Miss Remmers' Reviews) said The Paradox of Choice: Why More is Less by Barry Schwartz, as a little exhausting, but it still sounds good.
The BP oil spill has been big news this week, and, coincidentally, a new book called Oil: Money, Politics, and Power in the 21st Century by Tom Bower also came out. Thanks to Jacket Copy for pointing this out one.
Aarti (Booklust) reviewed Burma Chronicles, a graphic novel travel memoir by Guy Delisle. So many of my favorite genres and formats all in one book!
Book Blogger Convention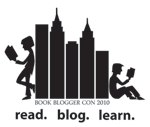 There were a lot of BBC wrap-up posts this week, these are just a few of my favorites. Cathy (Kittling Books) has done a much more comprehensive round up that I could, so you should certainly check it out.
Meg (WriteMeg!) took some lovely photos, and since she was sitting right next to me those are basically the photos I would have taken had I been better with my camera.
Wendy (Caribousmom) did a what I learned post, which points out that advice to wear comfy shoes is true and that the number of books available is not an exaggeration.
Amanda (The Zen Leaf) had some good commentary on our BBC panel on Writing and Content — we were both really nervous!
Marg (The Adventures of an Intrepid Reader) did a great Armchair BEA post with spot-on advice on how to beat the book blogging blues, something we all suffer once in awhile.
Natasha (Maw Books) wrote in detail about her visits to some NYC publishing houses. Me = very jealous! She noted:
If there was one thing that I learned, it is this: book bloggers are grass root activists and publishers are taking notice. It's exciting. While I don't advocate getting "too comfortable" with publishers, I think in the long run, everybody wins.
Amy (My Friend Amy) also shared some impressions, including the fact that it was awesome to meet people and that book bloggers are hot right now.
The Bloggers Toolkit
Google Reader finally made it easier to rename folders and tags. Thank goodness!
Some people are experimenting with delinking in posts to make them easier to read and easier for readers to concentrate on. Clearly, I didn't listen to this advice.
Author Irene Ziegler wrote about book tours and how they're changing book publicity — a good primer if you're unfamiliar with the idea.
Harper Collins posted a list of contacts for their various imprints, if you want to contact publicists about review copies for books.
What do you think of the feature? Suggestions for improvement? Any favorite or especially thought provoking posts?