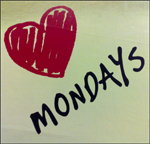 Monday Tally is a weekly link round-up of some of my favorite posts discovered over the week. If you have suggestions for Monday Tally, please e-mail sophisticated [dot] dorkiness [at] gmail [dot] com. Enjoy!
Events and Happenings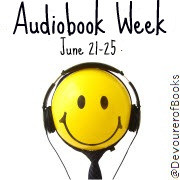 Jen (Devourer of Books) is hosting Audiobook Week this week. She's got daily post suggestions as well as prizes, so check it out.
A group of book bloggers started an online Twitter chat, #bblog, where book bloggers can come together to chat about issues. I missed the first one, but hope I can start participating soon. Find out more at their blog, http://bblogcentral.wordpress.com/.
Things to Think About
Linda Holmes, whom I love, wrote about dystopia fatigue on NPR's Monkey See Blog:
I'm not sure I'm buying anymore that sad endings are any more daring than happy ones, or that worlds in which everyone is a merciless, heartless shell are necessarily any more imaginative than Full House. Bleakness and quality are plotted on different axes. Uplift is not automatically lazy. Hopelessness is not necessarily more carefully thought out than hope.
Follow the Reader had a great Q&A with Candace (Beth Fish Reads) about the power and limits of book bloggers. I love when someone steps up and says exactly what needs to be said about book blogging, and then people listen! There was also an interesting #followreader discussion on Twitter, but that hasn't been re-capped yet.
Gayle (Everyday I Write the Book) declared book bankruptcy and will not let any more books into her house. I commend her effort.
Rebecca (The Book Lady's Blog) writes about not "having time to read" but instead "making time to read." She linked to a post from I Will Dare that sums it all up nicely:
It's not that you don't have time to read. It's that you choose to spend your free time doing something else. Which is fine. Just stop being condescending about how other people "have time to read." Because you have the same time.
Wonder what literature would look like if the titles were optimized for search engines. McSweeny's delivers on that odd question.
Sheila (Book Journey) shares some of the very serious symptoms for bookaholics. I know I suffer from #8: Cannot pass a bookstore without jonesing a little. I feel like there's a PSA in here somewhere…
I can sometimes be a nonfiction snob, but author Elise Blackwell (via a guest post on The Book Lady's Blog) reminded me that there are some really beautiful and important reasons to read fiction. She mentions Tim O'Brien's The Things They Carried as an example of her argument that fiction is "lying to tell the truth," which made me happy since it's coming up soon on my summer of Tim O'Brien reading project. This is a highly recommended post.
The New York Times has more stuff about bloggers and money and whatever. I'm a little tired of the conversation, but it's important to keep paying attention to what's being said. This about sums up the article:
As blogs take their place alongside traditional media, their writers must grapple with how to take advantage of moneymaking opportunities, steer clear of federal regulations — and remain their ornery independent selves. The promise of a blog lies in its unfiltered voice. Yet the lure of profit is no less powerful for the Web-only writer than for the print reporter. It's just that most print reporters operate with at least some institutional oversight.
Things to Squee About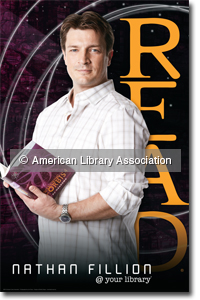 Nathan Fillion will be on one of the American Library Association's READ posters. Squee, indeed.
An engineer discusses what went into building the giant Rube Goldberg machine used in OK Go's video for "This Too Shall Pass." It's amazing, but the video (which took 85 takes and only actually ran 3 times) might even be more impressive. The video is about 11 minutes long, but includes the finished video.
Books for my TBR
The Madison Public Library blog, MAD Reads, linked to my story on summer reading, then put together some other lists of summer reads. Apparently, The Passage shows up on just about every one of them.
Rebecca (The Book Lady's Blog) gave a mixed review to The Devil and Sherlock Holmes, a collection of New Yorker essays by David Gann, but it caught my eye because I just finished listening to The Lost City of Z, Gann's earlier book, and liked it (review later this week!)
Technically, Summer at Tiffany by Marjorie Hart is already on my TBR pile, since I got it at the Book Blogger Convention, but Esme's (Chocolate and Croissants) review made me want to move it up ASAP.
Colleen (Books in the City) reviewed Mountains Beyond Mountains by Tracy Kidder, which I've also read but can't resist point to everyone because it is SUCH A GOOD BOOK. Read it.
Header (Capricious Reader) mentioned Crashing Through by Robert Kurson, a book about "Mike May; downhill skier, former CIA agent, entrepreneur, inventor, family man, and blind, since the age of three." Sounds awesome.
Rebecca (Rebecca Reads) mentioned an older book, The Home Maker by Dorthy Candfield — a book looking at gender roles in the 1920s.
My friend Alex runs a film blog Film Misery, where he writes really awesome firm reviews. This week he posted a Summer Reading List for Oscar Fans 2010, which added a few books to my list.
The Book Blogger's Toolkit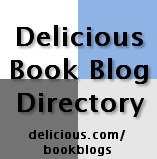 Callista (SMS Book Reviews) started a list of book bloggers on Delicious. Check it out and make sure you're there and give her any suggestions to you have.
As the New York Observer notes, signing up for an RSS reader seems like the solution to organizing your online reading life, but…
Call it Reader's Despair Syndrome, a condition that is afflicting New York's young and old with equal viciousness, but which tends to produce the most dramatic symptoms in people in their 20s and 30s, who retain hope that they will one day become more productive and virtuous in their Internet reading habits.
Tara (BookSexy Review) suggests some of her favorite bookish podcasts as part of the Weekly Geeks prompt. I wish I was more of a podcast person, but I get distracted when I try to listen to them.
Ebooks and Ereaders
Meta Bistro's ebooknewser shares a way to change PDFs into ePub format, making them easier to use with ereaders. I haven't tested it yet, but probably will soon.
I read a couple of posts (one more recent, one a little older) about what will happen when publishing shifts and the ebook comes first – i.e. gets more attention and focus than the edited print edition.
These struck me because it's the exact type of argument happening in newspapers right now. How do you have an online product, how do you make it different, and where does your primary focus go?
Eventually, it'll have to be online. But it seems like everyone who loves print is only going there kicking and screaming.
Which is too bad because some of the suggested adaptations for an ebook first model could be cool – extended space, more background material, added multimedia, optional linking, shifting narrative flow, and the idea of an "unfinished" book.
Kevin Rose (founder of Digg) posted a video of social features he'd like to see in ebooks. Some sound cool, some less interesting, but it's fun to speculate.
Science! Exploration! Crocodiles!
I could listen to most British men read the phone book and I'd still swoon. In this 15 minute-ish video, physicist and professor Brian Cox talks about the importance of exploration and funding for curiosity-based science.
My other favorite part? His site bio says, "With his rockstar hair and accessible charm, he's the go-to physicist for explaining heady concepts on British TV and radio." Swoon.
Apparently crocodiles can surf the waves, and that's how they traveled all over the world even though they can't swim. Who knew? Scientists, apparently.