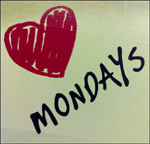 Monday Tally is a weekly link round-up of some of my favorite posts discovered over the week. If you have suggestions for Monday Tally, please e-mail sophisticated [dot] dorkiness [at] gmail [dot] com. Enjoy!
Top Picks
Monday Tally can get long (because I spend way to much time on the Interwebs), so I decided to highlight a few of my favorites up near the top (with full explanations down later in the post):
Events and Happenings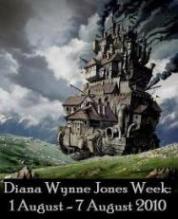 Jenny (Jenny's Books) is hosting Diana Wynne Jones Week from August 1 to August 7. I loved her fantasy when I was a kid – the Dalemark Quartet (consisting of Cart and Cwidder, Drowned Ammet, The Spellcoats and The Crown of Dalemark) was probably my favorite. I can't wait.
Estella's Revenge E-Zine is back, and looking for writers!
Things to Think About
The Los Angeles Times did a nice story about how book bloggers are catching on with publishers, and features a few of my very favorite book bloggers. This is a feel-good, highly recommended story.
Marie (Boston Bibliophile) asks what is a graphic novel – a good question, with some thoughtful responses.
Boston.com had an interesting piece about science and what it tells us about vacation habits. For example:
How long we take off probably counts for less than we think, and in the aggregate, taking more short trips leaves us happier than taking a few long ones. We're often happier planning a trip than actually taking it. And interrupting a vacation — far from being a nuisance — can make us enjoy it more. How a trip ends matters more than how it begins, who you're with matters as much as where you go, and if you want to remember a vacation vividly, do something during it that you've never done before. And though it may feel unnecessary, it's important to force yourself to actually take the time off in the first place — people, it turns out, are as prone to procrastinate when it comes to pleasurable things like vacations as unpleasant ones like paperwork and visits to the dentist.
Valerie (Life is a Patchwork Quilt) went to school with your favorite and mine, Mr. Nicholas Sparks, and shares some of his early journalism. So, so funny.
I got to guest post on The 3R's Blog about a new proposed genre, nonfictional fiction. It's pretty brilliant, if I do say so myself ; )
Follow the Reader sums up the recent discussion about the reach of book bloggers – another good read.
Tony Schwartz, author of The Way We're Working Isn't Working, urges workers to take back their lunch, a move he thinks will increase overall productivity.
Ereader News… I'm Obsessed
So much happened this week! B&N offered cheaper nooks, then Amazon dropped the price of the Kindle… grr!
Another angle of the ereader discussion – social reading. This story looks at a Kindle feature called "popular highlights" which shows users what other people have highlighted in ebooks. Good, or more examples of how the internet is making it impossible for people to concentrate, as Nicholas Carr argues in his book The Shallows.
Consumer electronics research found that 20 percent of people surveyed plan to by an ereader this year. How many of those people are book bloggers, I wonder?
In the wake of Obama firing McChrystal (because of "The Runaway General" in Rolling Stone), Simon and Schuster released a chapter of Truman by David McCullough about Truman firing MacArthur – a good example of a smart ebook release?
Frank McPherson (via Mobile Content Today) suggests that ereaders will survive by comparing ereaders and tablets like the iPad to feature phones and smartphones.
Making a Better World
The Isthmus, a local weekly paper, had an awesome cover story about mentoring. A close friend works for Big Brothers Big Sisters in the Twin Cities, and I've been wanting to join the Madison organization for awhile.
Can gamers and gaming help build a better world? One researcher thinks so, and give a pretty convincing speech on the topic.
The Blogger's Toolkit
Beth Fish Reads has a helpful post about how to write audiobook reviews. There were many of these because of Audiobook Week, but this was one of the most helpful to me (especially with tips about how to get quotes from audiobooks)
Problogger suggests some ways to keep inspired when blogging gets tough. I love the idea of blogging buddies and blogging alliances (suggestion #5).
A guest post on the 3 R's Blog goes through the process of clearing out your blog closet, ie managing your Google Reader. I'm compulsively drawn to posts like this as my GR feels constantly out of control.
Food!
Bethany (Dreadlock Girl) shares a recipe for a chocolate peanut tart. Yum.
The New York Times writes about a new trend – food co-ops – where groups of people get together and exchange meals. This sounds like an awesome idea.
Journalism News and Notes
The Buffalo News decided to require all online commenters to use their real names and provide a phone number of verification – the same standards they use for print letters to the editor. Editor's argue it is for a return to civility online.
Boston.com takes on some of the recent clichés in journalism, including my current pet peeve: BP's embattled CEO Tony Hayward.
Books for My TBR
That's it for Monday Tally! Any favorites?What do you think of the Top Picks? Feel free to send any great links my way!