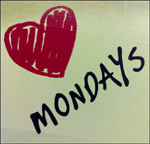 Monday Tally is a weekly link round-up of some of my favorite posts discovered over the week. If you have suggestions for Monday Tally, please e-mail sophisticated [dot] dorkiness [at] gmail [dot] com. Enjoy!
Things to Think About
Nymeth (Things Mean a Lot) wrote about how and why she writes about books. It's quite the manifesto – here's one of my favorite parts:
The reason why I enjoy writing about books (and reading other people's thoughts on them) is because I find that book discussions are an excellent platform for discussing, well, Life, The Universe and Everything. They're a perfect way for an incurable introvert such as myself to find out how people feel about all sorts of things.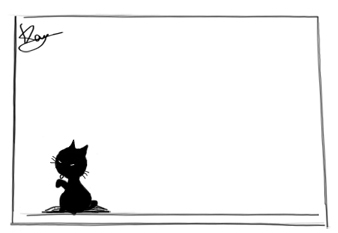 Kay (The Infinite Shelf) made a comic about reading with her cat. I totally agree. Here's the first panel – click the link to see the rest.
Jackie (Farm Lane Books) gets the best discussions going on her blog. This time? Are there good and bad books?
Becky (Becky's Book Reviews) imagines a time when we blog without guilt. It's a lovely thought.
There is no exact formula to follow. You don't have to follow a certain format, a certain style. You don't have to model what you do based on what others in the community do. Differences are a good thing. Individuality should be celebrated.
Author Maureen Johnson wrote a manifesto about the idea of personal branding. Here's an excerpt, follow the link to read the whole thing because this is preceded by a great story:
The internet is made of people. People matter. This includes you. Stop trying to sell everything about yourself to everyone. Don't just hammer away and repeat and talk at people—talk TO people. It's organic. Make stuff for the internet that matters to you, even if it seems stupid. Do it because it's good and feels important. Put up more cat pictures. Make more songs. Show your doodles. Give things away and take things that are free. Look at what other people are doing, not to compete, imitate, or compare . . . but because you enjoy looking at the things other people make. Don't shove yourself into that tiny, airless box called a brand—tiny, airless boxes are for trinkets and dead people.
Books for My TBR
Aarti (BOOKLUST) reviewed Burma Chronicles by Guy Delisle, a travelogue memoir in graphic novel form. Could that sound any cooler?
Andi (Estella's Revenge) added another list of foodie books, including some good ones that didn't make it to my Narrative Nonfiction 5 List.
Tara (Book Sexy Review) wrote about another cool graphic novel, Mr. Mendoza's Paintbrush by Luis Alberto.
Rebecca (The Book Lady's Blog) reviewed Click: When We Knew We Were Feminists, a book about the moment women became feminists. That's definitely on my wish list.
Forkful of News, a foodie blog run by some close Madison friends of mine, posted about Ayun Halliday's memoir Dirty Sugar Cookies, "a life story told through food." Delicious.
Blinding Me with Science
One of the perks of my job is that I often get to scroll through the Associated Press wire, and other science news sources. There was a recent conference on sleep which yielded a bunch of cool findings.
Did you know… sleep preferences can predict MLB pitchers performance, sleep can help you be better at Guitar Hero, or that more people in the US report being excessively sleepy than people in Europe? I didn't.
Also, spending too much time in front of tv screens and other monitors can cause back pains and headaches. So stop reading these links and get outside!
The Book Bloggers' Toolkit
Carrie (Carrie Actually) does a lot of succinct and useful tech posts. This one on Google Reader mentioned the "sort by magic" feature, which I'd never thought to use!
Peachtree Publishers wrote an informative post about review policies and what they look for in blogs for potential review copies. Their suggestions for a helpful review policy include:
contact info, what books you will consider for review, what you won't even touch, how far in advance you need a book, what formats you're willing to review (i.e. ARCs, Galleys, E-books, finished copies, etc.), if you participate in blog tours, and if you do guest posts and author interviews.
Also, it's ok to contact them to introduce yourself, your blog, and what you like to read.
I'm sure this has been around for forever, but Lenore (Presenting Lenore) has a good list of tips for new book bloggers. This was helpful to me, even though I've been at this for a couple years.
Beth Fish Reads did a good round-up of upcoming book blogger events including Book Blogger Appreciation Week and AudioBook Week.
Like to hold contests? Here's a huge, huge list of contest tips and tricks that could help out. I also liked this post on the seven signs of an A-list blogger in the making — any apply to you?
More from BEA and BBC
Toby Speed (The Writer's Armchair) had a guest post from author Selene Castrofilla, an author I met during the Book Blogger Convention. Selene wrote a really great post about why book bloggers are awesome.
Tara (Book Sexy Review) has a list of some bloggers she met at BEA and the BBC – there are some unique bloggers on the list (and me, but that's not why I'm sharing.)
Nicole (Linus's Blanket) got to go to the launch party for The Beekman Boys, a reality show starring Josh Kilmer-Purcell & Brent Ridge – Kilmer-Purcell is the author of The Bucolic Plague, a book I'm excited to read and that a lot of people received for review at BEA.
On Journalism
The local paper is trying a new print-first strategy, where certain stories don't go online until a few days after they are published in the print paper.
I'm skeptical, only because the types of stories they're holding – investigative and enterprise pieces – don't have as much time sensitivity, so what's the harm in waiting to read it?