I didn't get to BEA until Thursday around 1:00, so I don't have much to say about that other than that the expo is huge, I still got a few cool books and thank goodness Jill (Fizzy Thoughts) was around to help Care and I navigate!
My favorite BEA books were Packing for Mars by Mary Roach, Although of Course You End Up Becoming Yourself by David Lipsky, The Company Town by Hardy Green, and The Angel of Grozny by Asne Seiestad (thanks to Jill for snagging that one for me!).
This post is more of my impressions of the Book Blogger Convention, for which I tried to take notes and feel like I have more to say about 🙂
Maureen Johnson's Keynote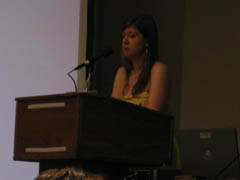 Like many non-YA bloggers, I didn't know much about Maureen Johnson before her speech, but (as many have already said) thought her speech was great. It was snarky and teasing, without being mean, and she made some interesting points about writing and blogging that I hadn't thought of.
Here are some of favorite quotes or moments (forgive me if they're a little off, I was taking notes and I'm not fast at it):
A story has to have problems, "otherwise it's just a long list of things that have done well."
"Writing is something you do by yourself, but not because you want to be alone." Meg (write meg!) was sitting next to me and wrote this quote too — clearly, we're journalists.
She's not sure what publishing things of blogging, mostly because there are a lot of blogs and they're just not sure how to deal with the math and noise of it all.
Bloggers are activists for books, and can make change (citing issues with diversity on covers and book challenges as ways that bloggers make a difference).
As bloggers, we build strength by sheer numbers. I think the added implication of that statement is that as bloggers we're more powerful together and need to keep that in mind.
Johnson shared a story about how she used to write things on post-it notes and then stick them to people, and how this is what like Twitter is to here.
In reference to everyone getting online and not getting it — "We're in a golden age of screw ups." Also, "Writers should write their own stuff — it's the least we can do."
Overall, her opening was a fun and positive way to get the morning started off on the right foot.
Professionalism and Ethics in Blogging by Ron Hogan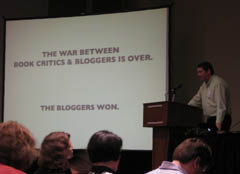 I have a long post percolating in my head about the speech, so I'm not going to write about it here other than to say Ron Hogan (formerly of Harcourt Mifflin and a blogger at Beatrice) talked about what professionalism means to bloggers — not the same thing as journalists — and challenged the idea of a blogging code of ethics. Of the presentations, I think this was probably the most controversial, which is why I'm writing about it separately when I have time to think.
The discussion/Q&A part of the presentation got a little sidetracked into publisher/blogger relationships rather than discussions of ethics, which I think was too bad because the idea of ethics is bigger than just how we deal with the industry — it's about the idea of being "good" bloggers more generally, and it's something that needs to get discussed. Not all bloggers are into the publisher/publishing side of it, but I think all bloggers could benefit from an ethics discussion.
But, there were still some good moments from the Q&A that I enjoyed.
One highlight of the discussion was when Tara (BookSexy) asked Hogan what publishing and publishers expect from bloggers. He responded that it's hard because publishing is still a traditionally literary establishment.
"We can't just send a book to everyone with a Blogspot address who asks for every book," he said. Publishers generally look at things like online rankings and activity in comments sections when they assess blogs, he said. He also added that when communicating with publishers, it's important to be specific about what you want — one book, one catalog, whatever. Publishers know they need to learn the territory — some panic and some are trying to do it.
Meryl, a publicist with MZPR, said she usually looks for intelligent reviews that show bloggers have read the book; how many readers a blog has and how that might impact book sales; whether bloggers then go and promote their reviews via Twitter or other means; and whether bloggers appear serious about what they want to read.
She also said that if a blogger gets a book they're not going to review, then pass it on to a friend because people will read and talk about it, which is the buzz publishers are looking for.
Another good note came from Ann Kingman, there representing her blog Books on the Nightstand, who said bloggers should get away from the term "free books" and start using something like "review copies." I totally agree.
Writing and Building Content
This was the panel I was on moderated by Rebecca (Book Lady's Blog) and with panelists Christina (Stacked), Amanda (The Zen Leaf), and Betsy (Fuse 8 Production) so I don't have any notes from it. I got the chance to talk about my review format (the use of one sentence summaries and reviews), my Narrative Nonfiction 5 feature, and about how helped generate content while reading Infinite Jest by blogging about the process of reading rather than just a review.
The best part of this was afterwards when I was trolling around on Twitter and saw that Jen (Devourer of Books), tweeted one of my comments — it made me feel legit!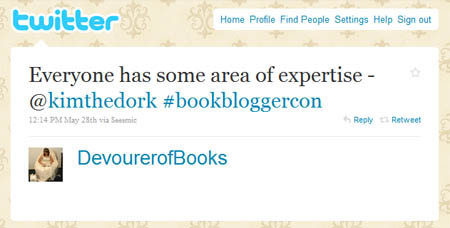 Marketing
This panel was really helpful to me because I do think marketing is part of blogging and developing an audience for your blog. The moderator was Heather (Age 30+ Books), and panelists included Gayle (Everyday I Write the Book), Ann (Books on the Nightstand), Yen (The Book Publicity Blog), and Thea (The Book Smugglers). Some tips I took away from it included:
Respond to comments on your blog and other blogs.
Know who your readers are.
Think about developing community through, for example, an online book club.
"Work your face off" — Ann Kingman
Market your blog the way that you got into blogging.
Be efficient in your social media — pick on, or find ways to connect what you're already doing.
When it comes to blog stats…
It might not matter. Publishers are more into commitment and reach, which goes back to part of the Professionalism and Ethics discussion.
It's hard to measure — some stats include RSS numbers, page views, or how many people bought a book based on a recommendation.
Incoming and outgoing links are a good stats measure, too.
Blogging with Social Responsibility
This panel was moderated by Marie (The Boston Bibliophile) and included Zetta (Fledgling), Stephen (Band of Thebes), Wendy (Caribousmom), and Terry (The Reading Tub). I took really poor notes during this session, but know that I ended up feeling really inspired by it and started to think about what I could do on my blog. I'm not sure of an idea just yet, but think I'd like my blog to be an agent of social change.
Bloggers and Authors
Also, really poor notes from this session moderated by Nicole (Linus's Blanket) with Caridad Pineiro (Caridad Pineiro's Blog), Bethanne (The Book Studio), Kristi (The Story Siren), Amy (My Friend Amy), and Beth Kephart (Beth Kephart Books). I think in part because I was fatigued, and also because I was a little less interested in this topic. I don't do author interviews and that sort of thing, so it didn't have as much of an impact. Still, the panelists were interesting and I enjoyed it, even if it wasn't as relevant.
The Ending
After the last session I headed back to the hotel with Care (Care's Online Book Club) and Sheila (Book Journey), then off to dinner at Dos Caminos with about 20 other bloggers. It was amazing to see so many bloggers in one place, even if I didn't get to talk with all of them.
I had a moment walking over where I was booking through Times Square with the two of them that I just couldn't believe blogging had brought me all this way. It was surreal and awesome and the perfect ending to a great experience.
Also, there were some cool swag bags. Meg (Write Meg!) did a summary of them, and since they were mostly the same I direct you to her post.
For more comprehensive and interesting recaps, check out some of the links I collected over the last week.