Sometimes I just don't want to read the book I'm supposed to read.
I want to ignore the shelf of review books (even though I am excited to read them), skip my pile of library books, and avoid the books pulled because of challenges of other book blogging projects. I just want to read something different.
So for the last few weeks, I've been trying to indulge that desire, since I think reading books I'm "supposed" to read when I don't feel like reading them doesn't work for anyone. And my rebellious reads have been a lot of fun.
Balzac and the Little Chinese Seamstress: A Novel by Dai Sijie and translated by Ina Rilke
Rating: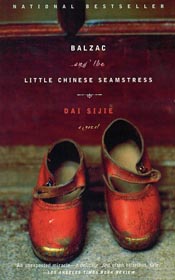 My sister gave me Balzac and the Little Chinese Seamstress by Dai Sijie for Christmas because she read it in high school and loved it. It's a slim little book — only 184 pages — which is part of the reason I rebelled and read it. My brain wanted something short and satisfying. And satisfying it was.
The book is a semi-autobiographical novel (nonfictional fiction, perhaps) about two teenage boys in China, Luo and Ma, who are sent away from the city to a rural village for reeducation because their parents have been declared enemies of the state.
While on the mountain, they meet the Little Seamstress, the daughter of the local tailor, and both boys fall in love with her. They also have a friend, probably more like a frenemy, named Four Eyes who his hiding a suitcase of Western books. Luo, Ma, and the Little Seamstress borrow some of the books, then plot to seal them after Four Eyes turns into a jerk. Finding and reading the books helps open all of their eyes to things the Chinese government has been hiding.
I think I loved this book for two reasons — the prose is really beautifully written and it's a sweet fable-like story about the power of words to change lives. I think anyone who loves reading would appreciate and enjoy that part of the book.
An Education by Lynn Barber
Rating: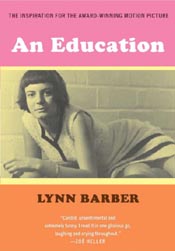 I read An Education by Lynn Barber because Care (Care's Online Book Club) sent it to me in the mail and said she thought I would like it, especially the stuff on journalism. And I liked it, for the most part.
An Education is a memoir by British journalist Lynn Barber written in nine parts: "Childhood," "An Education," "Oxford," "David," "Penthouse," "Fleet Street," "Success," "'Disaster," and "Postscript." Each section covers a period of time in her life, from childhood to working at Penthouse to finding and caring for her husband.
While they are roughly chronological, the sections tend to be more thematic, moving back and forth in time to make each chpater a completed essay on that topic in her life. I loved that organization for a memoir.
The title section — An Education — is about a relationship she developed in high school with a much older con man, and how her parents drastically changed their views of her — from supporting her bid to Oxford to suggesting she give up all that work just to get married. I didn't love this section, but, it's also probably the time with the biggest influence on Barber, as she notes:
The Simon debacle left me with a strong distrust of book learning, which I still to some extent retain. My feeling was: I've read all these books, I'm supposed to be so clever, and yet I couldn't even spot the most obvious con trick in the world. I felt that what I urgently needed to understand was Real Life and that Milton and Spenser were of no possible help. This was a poor attitude for embarking on three years study of English Literature. It means that I read the classics impatiently, instead of luxuriating in them as I had at school, because I was dying to learn about the present day. I think it was this attitude that propelled me towards journalism — I still have a somewhat exaggerated hatred of anything to do with the past.
That quote actually illustrates something I did not love about the book — a sort of tendency to over-tell the story. Rather than just letting moments sit, Barber tends to analyze and discuss them, which sometimes feels too self-involved or self-important. But I think in retrospect that critique is sort of minor and just a style of the book.
My favorite sections were actually "Penthouse" and "Disaster." The first because it was interesting for me to see another woman's perspective on being a journalist, and and the second because it was the most emotional section of the memoir. Barber was a journalist starting in the 1960s, and so has different (and similar) insights on the craft and how to do it than I do, which I loved reading:
"I still get furious with people– including, alas, many of my journalist colleagues — who knock media studies as a somehow worthless or frivolous pursuit. I know that the calibre of teaching is not always great, but I don't see how anyone can fault media studies as a subject, given that we live in such a media-dominated age. Isn't it important to give young people some idea of how the media works?"

"I think I probably developed me interview style through those early Penthouse confessionals, where the whole trick was not to look embarrassed, not to interrupt their flow, basically just to be a sympathetic ear."

I remember lying in my Viennese hotel room thinking, 'This is amazing — I am being paid to meet someone I would kill to meet anyway.' Until then, I hadn't had an particular ambition, but suddenly at 36 I knew what I wanted to do — interviewing, and lots more of it."
I won't talk about Disaster at all, since I think it's better to go into with no idea what it's about. It was so good though — the only note I have from that section is in big scrawling letters: "Wow — did not see that ending coming! No hints at all… woah!"
Boyfriend and I watched the movie An Education soon after I read it and had mixed reactions. I think the movie is based on a fiction book by Nick Hornby, which is based on Barber's memoir, but the full memoir was published after the movie came out… is that right?
EDITED TO ADD: Carrie (Nomadreader) clarified my confusion with this comment:
Nick Hornby wrote the screenplay based on that chapter of Lynn Barber's memoir. There was no novel, and the memoir has been out for quite some time. I haven't read the book because no one seems to love it, and An Education was one of my two favorite movies last year (and I thought Carey Mulligan should have won the Oscar).
Anyway, Boyfriend thought it was a very "girly" movie, based mostly on what was happening — a young girl meets an older man, gets sucked into a sophisticated life, then rebels against it. I didn't love that the movie focused only on that section of the memoir, since I thought Barber's life was more interesting than just a childhood affair. But in general, it was a good movie, and Carey Mulligan as the main character was awesome.
And Moving On…
So that's been some of my rebellious reading lately. I just picked up another one last night, The Big Year: A Tale of Man, Nature, and Fowl Obsession by Mark Obmascik, which is about a yearly bird watching contest. Completely random, but I'm loving it so far because I have a deep affection for books on obscure obsessions.
How do you deal with the urge to read something completely different? How likely are you to diverge from any sort of formal or informal reading obligations? What have been some of your recent rebellious reads?