This summer I'm reading the complete works of Tim O'Brien — one book every two weeks between the beginning of June and the beginning of September. I posted about his memoir, If I Die in a Combat Zone, and now I'm catching up with the next two in the series.
I think if you made a graph of how much I like Tim O'Brien's books so far, it'd be a slowly increasing line. If I Die in a Combat Zone had flashes of awesome, but wasn't great. Northern Lights was better as a compelling adventure story. But Going After Cacciato is my favorite so far, and left me excited because I hope the trend continues.
Northern Lights (1975)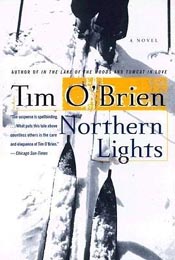 O'Brien's debut novel Northern Lights is a pretty typical adventure story (If I Die in a Combat Zone was a memoir). It's the story of two brothers — one who fought in Vietnam and one who didn't.
Paul Milton Perry avoided the war and stayed in the same northern Minnesota town he's always lived in. He's married to Grace, an almost painfully sweet woman who dotes on her generally lethargic and inattentive husband.
Harvey went to Vietnam, and returns to the town with a terrible facial injury and, obviously, some demons from the war. The brothers live together in the home their father lived in, sort of wasting away time and talking about the big things they plan to do.
Finally, they actually do something. Harvey enters them in a cross country ski race some hours away, after which they'll ski through the wilderness to get home while Grace and Harvey's girlfriend, Addie, drive home. But things do not go as planned and they find themselves in a desperate attempt to survive an unexpected Minnesota blizzard.
If you couldn't tell by my somewhat lackluster description, I was frustrated with the characters in this book for a lot of the story. There was just a lack of energy, of interest in the world, of doing anything. It took so much to get them off their butts and into conflict that the first part of the book feels sort of slow.
The adventure story is great though, and for a long time it's unclear what's going to happen to the brothers. Once things started to happen, the book got more interesting. That's probably the most obvious statement I've ever written.
But what worked throughout the entire piece was O'Brien's writing style. He had this beautiful way of moving between extended passages that were almost in stream-of-consciousness to pieces of punchy, short, and impactful dialog between characters. It's sort of unsettling, but also drew me in and constantly surprised me. It really feels like you get inside of this constant indecision and lack of motion, as frustrating as it was.
In a lot of ways, the book reminded me of something I read quite awhile ago — a mysteries series set in northern Minnesota by William Kent Krueger (Iron Lake is the one I remember). They've got similar senses of place and the unforgivingness of nature that I enjoyed.
Bottom line: Northern Lights was a pretty straight forward adventure story, but has O'Brien's characteristically lovely writing style that makes it fun to read.
Going After Cacciato (1979)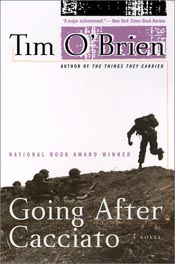 This is the first book I've read this summer that felt like the Tim O'Brien I remember from my high school literature class. There's this mixing of fact and fiction, of the known and the unknown that I find really compelling.
I actually sat down and read this book in one day. A friend and I claimed a couple of chairs down by the lake and had a 10 a.m. – 4 p.m. reading marathon. A somewhat ghastly book about Vietnam isn't exactly a summer read, but it was satisfying to read a whole book in a day anyway.
Going After Cacciato is the story of a chase, told from the perspective of Paul Berlin, a foot soldier stationed in Vietnam. The story follows the events that happen after one member of Berlin's squad, Cacciato, abandons the army and decides he's going to walk from Vietnam to France.
Not coincidentally, soldiers in the army do a lot of walking. By O'Brien's estimate, a standard foot soldier would walk the distance from Vietnam to France during his tour.
I have to say, the opening of this book is just stellar:
It was a bad time. Billy Boy Watkins was dead, and so was Frenchie Tucker. Billy Boy had died of fright, scared to death on the field of battle, and Frenchie Tucker had been shot through the nose. Bernie Lynn and Lieutenant Sidney Martin had died in tunnels. Pederson was dead and Rudy Chassler was dead. Buff was dead. Ready Mix was dead. They were all among the dead. The rain fed fungus that grew in the men's boots and socks, and their socks rotted, and their feet turned white and soft so that they skin could be scraped off with a fingernail, and Stink Harris woke up screaming one night with a leech on his tongue. When it was not raining, a low mist moved across the paddies, blending the elements into a single gray element, and the war was cold and pasty and rotten.
I mean, that is really awful, but also just so well written. You couldn't possibly start the book off with a more bleak and depressing and engrossing paragraph.
The book itself jumps back and forth in time, following Cacciato into the rabbit hole, so to speak, and telling about things that happened to the squad before Cacciato left. It's sort of bizarre, and I don't want to say much more because I think that might ruin some of it.
Suffice it to say, after just a few chapters it becomes increasingly unclear what is true and what is just a war story.
What struck me about this book is that it finally feels like there is, as a favorite professor used to say, some there there. By which she meant there's more to the story than just the story, there's a depth to it that some thinking and careful reading can bring out. The previous books just didn't have it.
In this case, it's about trauma and ambiguity and balancing out what it know and unknown. It's about running and escaping and staying and debating the merits of a truly awful war. It's about choosing between what you're supposed to do — fight — and what you want to do — run — and how you survive either of those choices.
It's about being a soldier, and what it means to tell the story of being at war. That's a lot.
I think I'll wrap things up now, and just invite more discussion in the comments because I'm curious what other people have thought about either of these books, or if you have plans to read them.
What's a book you can think of that really has some there there?