I didn't like Bill Bryson's travelogue The Lost Continent because I thought his sense of humor was too dark, mean, and inconsistent for my tastes. In the comments, Laurie Hertzel, author and books editor for the Star Tribune, commented (emphasis mine):
Bill Bryson's books are very strange. His schtick seems to be this outraged sensibility that time should not change anything, that places should remain quaint and preserved in a way that would be most unnatural. He travels alone, usually, and he seldom engages anyone that he meets along the way; most of his travel writing is vivid and interesting (and, as you say, mean), but he remains an outsider; usually he goes back to the pub and has dinner and a few beers and goes to bed, and you never get the sense that he has involved himself in a place.
I decided to give Bryson's travel writing a second try by listening to an audio book of In a Sunburned Country, a travelogue about Australia. As I listened, that comment stuck in my head.
While I liked In a Sunburned Country better than The Lost Continent, I'm not sure that I'll ever love Bryson as a travel writer because he travels a lot like me, and I travel pretty boring.
For In a Sunburned Country, Bryson traveled to a country that he loves unabashedly (a point he repeats with relative frequency). In between tales about taking a train across the Outback and driving along the coasts, Bryson fills in the book with details and anecdotes about the history and quirky tales of Australia.
And those sections are quite funny. I loved reading about all the ways Australia animals can kill you and the way Australia politics are totally incomprehensible and how they love cricket even when it's the longest game ever. And listening to Bryson read the book with his amusing accent was nice.
But at the end of the day, Laurie's comment was exactly right. After every day of travel, Bryson heads to a hotel, finds the nearest pub, and settles in. He never really makes an effort to engage, preferring to poke fun or highlight contradictions in the people he meets. He seems to always want the world to be "quaint" or "charming" or any other pleasing adjective you'd commonly find used in 1958.
I don't begrudge him his pint and seat at the bar. In fact, I totally get it because it's almost exactly like me.
I'm not a middle-aged, sarcastic, sharply funny British guy, but when I travel I'm equally tame. I take the well-traveled road, hit up tourist attractions, then spend the night by the pool or out with friends. And most of the time I like it that way.
Here's an example: I went to London a few summers ago for a class on Shakespeare. One night a friend and I were out at a pay phone trying to call home. I was waiting outside while she made a call when an older Czech man approached me and started chatting. He asked where I was from, what I was doing, and whether I wanted to go get a drink with him. He was very insistent — "Just one drink! It's no big deal, I'll pay!" Rather than finding this exciting, I was freaked out. I did my best to be nice, but basically shot him down in favor of an evening reading in our hotel lobby.
So I'm a tame traveler. That means if I'm going to read a travelogue, I want the book to be a way for me to experience a place in a way that I'll never get to experience myself. I can do what Bryson does, and that makes it seem boring.
I think this is the reason I liked Carl Hoffman's The Lunatic Express so much. In that book, Hoffman goes to some of the world's most out-of-the-way places by some of the world's most dangerous ways to travel. He goes places I've never been, and gets to them in ways I'm too scared to try. It's travel I won't experience myself.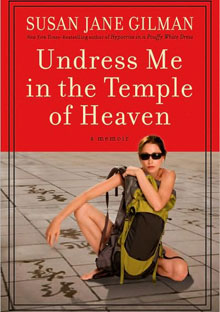 I feel the same way about Susan Jane Gilman's memoir Undress Me in the Temple of Heaven, In that book, twenty-something Susan and her friend Claire decide to travel the world alone, starting in China (which was only just opening up to the West). The two girls are a bit like me – young and excited – but do something infinitely more adventurous that I imagine I could be.
I just started another travel memoir, Rachel Shukert's Everything is Going to Be Great: An Underfunded and Overexposed European Grand Tour, and while I'm not liking all of it the fact that Shukert does things I would never do while in Europe appeals to me.
I'm prepared to give up on Bryson just yet. His sense of humor hits home with me, and I really want to like what he writes. I'm thinking some of his other nonfiction – Made in America or A Short History of Nearly Everything or his upcoming book At Home – might be a better fit.
But for now, I have to sadly conclude that his travel writing just doesn't seem to work for me.
How do you like your travelogues?