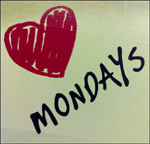 Monday Tally is a weekly link round-up of some of my favorite posts discovered over the week. If you have suggestions for Monday Tally, please e-mail sophisticated [dot] dorkiness [at] gmail [dot] com. Enjoy!
Monday Tally is a day early this week because tomorrow is my discussion for Tim O'Brien's The Things They Carried. I can't wait!
Top Picks
Me and People I Know
Some of my very good friends who blog over at Forkful of News, a foodie blog, got profiled in a local magazine. Read this to see what cool people I know 🙂
This week at work I wrote a piece, A Homegrown, Mouse-Killing Machine, which is about how a company redesigned their traditional mousetrap so it could be manufactured in the United States. It's actually more interesting than it sounds, I hope!
Everyone Loves Libraries
In a follow up to my love for the Old Spice guy, I bring you a video created by a Brigham Young University comedian about why people should study in libraries. I suspect these types of parodies will get old soon, but for now I'm still laughing (a lot, and loudly).
Linda Holmes (NPR Monkey See) thinks the next big pop culture thing will be libraries, thanks in part to the Old Spice Guy and that BYU video I already mentioned. We book bloggers are so ahead of the crowd on this one.
The Art of Book Reviewing
Yen (The Book Publicity Blog) shared some pictures of the books versus reviews conundrum — reviewers ("real" ones and bloggers) all have a lot of books. The Philadelphia Inquirer gets 800 books for review a month… how many of those even get a shot at print? Not many. Book publicity is tough. There's also a Flickr photostream you can add your own To Be Reviewed shelves to.
Media Matters did a piece looking at the challenges for book review editors of discovering conflicts of interest a reviewer might have when reviewing a book, which also has some stats about how few books actually get reviewed. The story addresses a big issue for all mainstream journalism — how maintain credibility in a changing media environment. Given my background as a journalist and a blogger, I find all of these discussions pretty interesting.
The NYT writes about book trailers, focusing specifically on what it asks authors to do. Not surprisingly, some find it awkward and others think it is fun. BUT! An interesting fact:
According to a 2009 online survey by Teenreads.com, 4 in 10 teenage readers said they liked to see book trailers on book-related blogs and 46 percent watched book trailers on YouTube. Even more startling, 45 percent bought a book after watching the trailer.
eBooks and eReader News
Amazon announced that their eBook sales were higher than hardcovers, but that stat might be just a little misleading. This post from Digital Book World highlights a bunch of great posts that go behind the headlines on this issue.
Nostalgia
In this interview with Jacket Copy, YA author Meg Cabot talks about the summer she read the Dragonriders of Pern series, one of my favorites when I was in high school.
From 1000 Awesome Things, #456 – When your friend returns your book and they actually read it. That is awesome.
This is an older, but still really awesome, piece if narrative journalism about the beginning and the end of Conan O'Brien's time at The Tonight Show
On Journalists and Bloggers
I'm not sure I agree with all the points, but an interesting argument about how one might go about telling a journalist from a blogger.
And if you were curious what it's like to date me, here are 5 Things You Should Know Before Dating a Journalist. My favorite is #2: At some point, you will be a topic.
Either through a feature story or an opinion column, something you do or say will be a subject. Get over it. Consider it a compliment, even if we're arguing against you in print.

Think about it: we live our lives writing about life. If you're a part of our life, we're going to write about you, your thoughts or a subject springing from one of the two.

Don't be upset when an argument against your adoration of Hillary Clinton turns up on page A4. We're not directing the writing at you, personally — your ignorance was just our inspiration (there, doesn't that make you feel better?).
Top Notch Journalism
The Washington Post unveiled a massive and awesome investigative journalism project about Top Secret America, the thousands of agencies and groups working to "keep us safe." This is a must read.
This BBC News infographic shows the ups and downs of social networks. Despite being sort of creepy, Facebook is still the dominant social network in most places.
Rebecca Skloot is everywhere (as is her book The Immortal Life of Henrietta Lacks). In this interview with Neiman Storyboard, Skloot mentions the similarities between her book and The Spirit Catches You and You Fall Down by Anne Fadiman, which is one of my favorite books of all time.
The Bloggers Toolkit
I <3 ProBlogger, and this simple 7 Link Challenge sounds like something fun to do.
Last week I linked to a story about hashtags that would save publishing. This week, Shelf Awareness did a follow up looking at how publishers are responding to the Twitter conversation.
Books for My TBR