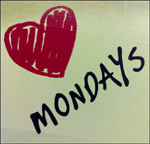 Monday Tally is a weekly link round-up of some of my favorite posts discovered over the week. If you have suggestions for Monday Tally, please e-mail sophisticated [dot] dorkiness [at] gmail [dot] com. Enjoy!
Top Picks
Top picks are my three favorites of the week – links here, explanations later in the post.
Things That Made Me Laugh
This was a giant week for things that I found absurdly funny:
If you're not following DRUNK HULK on Twitter (as I wasn't), then you should be. And you can read this interview with GalleyCat where his DRUNK HULK's identity is revealed (if you don't mind losing the mystery)
On Tuesday, a website called I Write Like was all the rage. Plug in some writing, and the site will tell you who you write like. Various writing samples from me suggested Dan Brown, Isaac Asimov, and Kurt Vonnegut. My favorite response of the day came from Margaret Atwood on Twitter: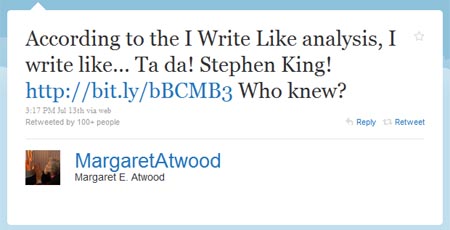 My friend Katjusa also did an interview with the creators of I Write Like that I think you should read.
If you haven't watched any of the Old Spice commercials featuring Isaiah Mustafa, you should go to their YouTube channel RIGHT NOW and do that. Sexy and funny. Also, he loves libraries:
There was also a piece in The Awl that talks about how effective this was as a sort of meta viral marketing campaign which I liked too. Read Write Web and the Neiman Journalism Lab also has responses to the campaign.
The Oatmeal created a comic titled 6 Reasons to Ride a Polar Bear to Work. Enough said.
Bookish News
Meg (Write Meg!) thinks she's too old for the Twilight movies, and very eloquently sums up pretty much everything I find disturbing about the whole franchise. Also, this:
Am I reading too much into it? Maybe. They are, after all, just books — and movies, too. But books change lives and attitudes, and books change people. Books this popular have the ability to change perspectives, no doubt about it — especially when people are so engrossed in them. I just hope it's for the better.
Steig Larsson has part of a 4th manuscript written as part of his Millennium crime series (you know, those ones with Mikael Blomqvist and Lisbeth Salander). I haven't read the books, but I'm intrigued. And the article talks about the long history of posthumous publishing of last books.
Dawn (She is Too Fond of Books) and all the little Too Fond of Books kiddos went to a hedgehog party at a local bookstore. The pictures look like so much fun – I so want a hedgehog cookie! (Shaped like a hedgehog, not an actual hedgehog, sheesh!)
I'm supposed to be reading The Nanny Diaries as part of my ongoing book club with my sister, but I've been putting it off. I think seeing a NYT story about the proliferation of nanny novels is a sign I should get to it. The story mentions a few books of note:
The Perfect Stranger: The Truth About Mothers and Nannies by Lucy Kaylin (nonfiction)
Bad Marie by Marcy Dermansky (fiction)
Minding Ben by Victoria Brown (fiction)
My Hollywood by Mona Simpson (fiction)
A.J. Jacobs' My Life as an Experiment (the new title for The Guinea Pig Diaries) is going to be made into a half-hour comedy for tv. I'm not sure how I feel about it.
And BP Remains Terrible
The NYT published a pretty damning article about BP's ongoing disregard for safety. It's actually a little startling how many major accidents have occurred just within the last few years. Also included in NYT's traditional interactive timeline on the topic (which is basically just a repeat of the story – not their best).
However, NYT also reports that most of the dead animals being autopsied show no visible signs of oil contamination, even though that almost certainly doesn't let BP off the hook for their deaths: "other suspects include oil fumes, oiled food, the dispersants used to break up the oil or even disease." This is a gross and sad story, but important.
But then on Thursday they stopped the oil leak, so that's at least good.
Foodie Thoughts
The Minnesota Twins (my favorite baseball team, since I'm still a MN girl at heart) just got a new stadium, and there's been some emphasis on how "Minnesotan" and all the food it. Simple, Good, and Tasty challenge that argument by talking about the definition of local food – not just being sold by local business, but also sourced and farmed locally too. It's an interesting debate, to be sure.
eReaders and eBooks and the Interwebs
Steph and Tony (Steph & Tony Investigate) got back from Puerto Rico, and Steph wrote some thoughts about on traveling with her ereader.
NYT columnist David Brooks weighed in on the Books v. The Internet debate, citing a study where students who were able to bring books home performed better on tests. I liked this particular conclusion:
But there was one interesting observation made by a philanthropist who gives books to disadvantaged kids. It's not the physical presence of the books that produces the biggest impact, she suggested. It's the change in the way the students see themselves as they build a home library. They see themselves as readers, as members of a different group.
Poet Billy Collins doesn't like eReaders because they mess up the way poetry looks, which makes sense to me even as it makes me sad. As he explains it:
"The critical difference between prose and poetry is that prose is kind of like water and will become the shape of any vessel you pour it into to. Poetry is like a piece of sculpture and can easily break."
50 percent of students say they want to by an eReader this year, which is sort of surprising to me. Last year UW-Madison experimented with the Kindle DX in classrooms, but dropped it because its difficult for blind readers to use that particular device. Students also had mixed reactions, as one news story reported.
The Bloggers Toolkit
Shelf Awareness wrote a shirt piece about some popular Twitter hashtags (those things that start with #) that could help save publishing. Save publishing might be an overstatement, but these are some good conversations to follow.
Books for My TBR