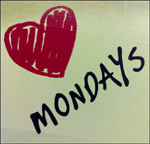 Monday Tally is a weekly link round-up of some of my favorite posts discovered over the week. If you have suggestions for Monday Tally, please e-mail sophisticated [dot] dorkiness [at] gmail [dot] com. Enjoy!
Monday Tally might be a bit light this week, since I had to get it ready before my vacation and didn't read blogs all weekend. But it's still pretty link-tastic, if I do say so myself!
Top Picks
Advertising Me

Andi (Estella's Revenge) and I will be co-hosting BookClubSandwich, an online book group for people who want to talk about food. Our first selection is Coop by Michael Perry, and we'll kick off the discussion Monday, August 16 at Andi's blog. I hope you'll join us!
While I don't intend to share everything I write, I'm proud of this piece about the potential impact of fair trade on the consumer electronics industry. Didn't know I had such varied "expertise," did you?
Things to Think About
Greg (The New Dork Review of Books) posted his list of the top 10 literary things in 2010, so far. #3 is dear Mr. Nicholas Sparks trying to talk himself up. Oh my, #iheartthespark.
Clay Shirky – a professor an NYU and expert on the usefulness of decentralized technology – gave a TED Talk about how cognitive surplus will help change the world. Can I just say, the single best thing about my new job (other than, you know, being paid) is discovering TED Talks.
Susan Orlean writes about some uses for the hashtag on Twitter, a post that's interesting in its analytical discussion of linguistics via Twitter. #Iamahugegrammernerdandlovelinguistics
Are you a front or back of the pack reader? Andi (Estella's Revenge) wants to know. I tend to be back of the pack, except for review copies.
Obligatory eBook and eReader Links
Google is making a push into the ebook market with Google Editions, and is likely partnering with independent bookstores through the American Booksellers Association. Google Editions are supposed to be device neutral (yay!):
"I don't think anyone who has bought an e-reader in the last several years has really intended to only buy their digital books from one provider for life," said Tom Turvey, Google's director of strategic partnerships, who heads the Google Editions project.
Jan Swafford at Slate writes about why she thinks e-books will never replace real books. I loved all the references to Marshall McLuhan.
The Future of Journalism
Yahoo announced its publishing a digital content style guide, sort of the AP Styleguide for online, called The Yahoo! Style Guide: The Ultimate Sourcebook for Writing, Editing, and Cresting Content for the Digital World. It'll be available tomorrow, July 6, from many of your favorite retailers.
Advertising Age looks at the growing trend of free content that can get better response than expensive content. One writer in the article as written more than 500 articles for BleaherReport.com for free.
Viewership for online videos is up, suggests one study. The biggest video watchers are 18- to 24-year-olds, and the time people spend watching videos is expected to rise. Good news for news organizations that think video will save them online.
I Love Cats!
A British vet gave a cat prosthetic feet and helped him walk again. There were some videos up on YouTube which have since been taken down, that I got a little teary-eyed watching at work.
Here's a video about sleeping with your cat. Now I really want to do a time-lapse to see what Hannah does at night.
Celebrating Good Things
Galley Cat reports than an 82-year-old grandmother has landed a three book deal for her stories about William Shakespeare and Christopher Marlowe. See, it's never too late.
Melissa (Betty and Book Chronicles) wrote a really nice post about three instances where she got simple service that was above and beyond what was necessary. I liked reading this because it reminded me of how many good people there are, when its sometimes easy to forget and complain.
One of my favorite recently discovered blogs is A New Dress A Day, where one woman plans to do an entire year without traditional clothes shopping, coming up with a new outfit every day for $1. It's amazing.
Things That Are Sad/Aggravating
Sad: Steve Carell is probably leaving The Office at the end of Season 7. That's my FAVORITE SHOW of all, and I'm sure it won't be the same without him. Linda Holmes at Monkey See suggests that Darryl become the new boss – a suggestion I like the longer I think about it.
Aggravating: The Fox News affiliate in Chicago did an "expose" on whether we still need public libraries. Even though they see numbers going up with circulation and people, libraries cost money, and most people only use the FREE internet… so the hell with them! Ridiculous.
My other favorite part of the video – libraries help people find jobs, which is good. The opponent's response: there are no jobs, so why bother having a place to have people look, especially a place that INCREASES local taxes!
Fantastic Book Lists
The Guardian suggests the 10 best books on the credit crunch, "from fly-on-the-wall accounts of the crash to post-meltdown analysis." I'm looking forward to Too Big to Fail by Ross Sorkin and Payback: Debt and the Shadow Side of Wealth by Margaret Atwood.
Scientists make a few suggestions for summer reading in the Washington Post. I have an upcoming Narrative Nonfiction 5 with science suggestions from a close journalist/scientist friend that I'm also excited about.
Books for My TBR