Today is my 24th birthday! And what do I want? Books!
Now, I'm not much of a new book buyer. It's probably blasphemous to say that, but it's true. I'm much happier perusing used book stores or seeing what kinds of cheap reads I can snag online rather than getting them new. If I do buy new, I almost always wait for the paperback and then try to use as many coupons and deals as I can. After spending 19 years as a student, I'm still cheap.
But since today is my birthday, I thought it'd be fun to come up with a list of books I would love to go out and buy new for myself for my birthday, right now, because a birthday is a perfect excuse to buy something slightly frivolous or extravagant: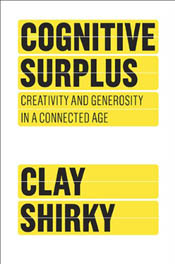 Clay Shirkey's Cognitive Surplus: Creativity and Generosity in a Connected Age looks awesome. I really want to read this one. Actually, I'd love any books by Clay Shirkey – his backlist includes Here Comes Everybody: The Power of Organizing Without Organizations, for example.
Because I've got a start on it, I want everything that Tracy Kidder has written. I loved Mountains Beyond Mountains and can't read to get through the rest of his backlist. By some stroke of odd coincidence, I already have three of his books in hardcover because I found them used over the last couple years. I'd get myself the rest of the collection as a gift.
The Yahoo! Style Guide: The Ultimate Sourcebook for Writing, Editing, and Creating Content for the Digital World because I'm doing more web writing and the sheer size of this book calls to me.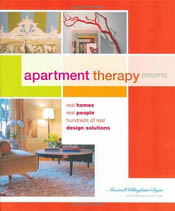 Apartment Therapy, a blog I just found, has a design book out: Apartment Therapy Presents: Real Homes, Real People, Hundreds of Design Solutions. It looks beautiful!
I was exploring around the Chronicle Books website and came across this Ticket Stub Diary. I love to collect stubs and fortunes and little paper momentos, but usually lose them – this would be perfect.
I read Waiting for Columbus last year and thought it was great. The author was kind enough to send me a signed copy that I got to giveaway – how I wish I could have kept it for myself!
I also want the complete Harry Potter series in hardcover. My family has one full set that we bought and fought over the day each came out. I've been collecting a set in paperback that's still not complete. I want to trash that and start over with a pristine set all my own.
I came across The Way We're Working Isn't Working: The Four Forgotten Needs That Energize Great Performance by Tony Schwartz a few weeks ago, and have been curious about it ever since.
Next is everything by Henry Jenkins. He's an academic that studies journalism and participatory culture, and I seem to love almost everything he says. Right now I'm coveting my own copies of Convergence Culture and Fans, Bloggers, and Gamers.
I also just finished reading Amusing Ourselves to Death: Public Discourse in the Age of Show Business by Neil Postman, and now want one of his other books, Technopoly: The Surrender of Culture to Technology.
The final book I'm coveting is The Book of Awesome by Neil Pasricha, which is from the blog 1000 Awesome Things. Funny story with this one — I actually did buy myself a new, hardcover of this book because I love the blog so darn much. And then I gave it away to my sister for a college graduation present because she is one of the most awesome people I know. So, I still don't have The Book of Awesome for myself.
And the Giveaway!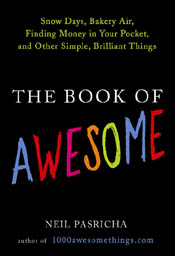 I skipped doing a giveaway for my blogiversary, but I'm excited and want to do one now.
Because I think birthdays are awesome, I've decided that I'll be giving away a NEW copy of The Book of Awesome to say thanks to all of my awesome readers. To enter, just leave a comment here sharing one thing you think is awesome (and saying "Birthdays!" doesn't count because I already did!). Also, make sure you leave your e-mail in the form or in your comment.
The giveaway is open internationally, but with a catch. If you live in the US or Canada, I'll ship the book to you from Amazon. If you live internationally, I'll give you an Amazon (or other bookstore) gift certificate for the same price as the book, then just ask you to purchase it yourself to help keep shipping costs down. I think that will work. If not, I'll work out something with an international winner.
Are there any special books you've been coveting that you're waiting for a special occasion to buy? Are you more of a new or used book kind of person?