Before reading Nine Humorous Tales I mostly knew Russian writer Anton Chekov from his plays like The Seagull and The Cherry Orchard. Turns out he was also considered a master of the short story, so when he came up on The Classics Circuit I decided to try a collection of those.
I decided on Nine Humorous Tales, a book I could get for free on my nook via Google Books. The nine stories are all quite short – the book is only 67 pages online – and don't take much time to get through.
In the introduction, Chekhov is compared to American short story writer O. Henry, particularly the first two stories in the collection: "A Work of Art" and "Vengeance." As the introduction explains:
"They are told with that same breeziness, that same crispness, and end with that same 'punch' as characterize the America's work. … If O. Henry may be called the American Chekov with a 'punch,' Chekhov may be equally termed the Russian O. Henry with a caress."
I've always liked O. Henry, even if I haven't read as much of him as I'd like to. But from what I remember, I think that sums up my impressions of Chekhov versus O. Henry and my thoughts on the collection quite succinctly.
Of the nine stories, the first two were my favorites. In "A Work of Art," a young man named Sasha offers a gift to a doctor as a thank you for saving his life. The gift is "a low candelabrum of antique bronze" with two figures that were,
"smiling coquettishly and in general gave one the impression that, were it not for the fact that they were obliged to support the candle-stick, they would leap down from their pedestal and exhibit a performance which… my dear read, I am even ashamed to think of it!"
The Doctor tries to refuse the gift, but Sasha insists. Convinced he cannot have such a lewd object in his home, the Doctor passes the gift to a friend who in turn passes it on. And then there's the O. Henry-esque twist, but I can't tell you that!
The second story, "Vengance," is about a man name Savvitch who overhears his wife and friend plotting an affair. Determined to make the man look like a fool, Savvitch comes up with a plan he believes will get the man arrested. Hijinks ensue.
What I liked about these two was the sense of playfulness they had. The narrator's voice was wry and sarcastic, which keeps otherwise simple stories from being boring. The rest of the collection was a little bit more serious, but only in the sense that there wasn't some sort of twist near the end. Still, the stories are much more about plot and situation than they are about in-depth characters.
In one, Chekhov writes about a vain prostitute just out of jail trying to dupe her previous "gentlemen friends" out of some money for new and fashionable clothes. In another, an old colonel tells a potentially racy haunted house story to a group of young ladies.
None of these characters are especially deep, but they do tell some nice vignettes about life in Russia and situations where characters don't understand each other, to humorous results.
If you haven't read any of Chekhov's short stories, I recommend them. This short collection is available to read via Google Books.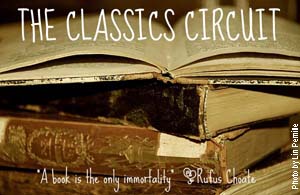 This post is part of The Classics Circuit Imperial Russian Tour. For more information about this tour or upcoming events, visit their website. Thanks for the opportunity to let me host about this very funny Russian author.