This is the wrap up post for the first edition of BookClubSandwich, an online book club for foodies and wannabes. Andi (Estella's Revenge) hosted the discussion on Michael Perry's book Coop at her blog starting last Monday, and it looks like we had quite a few people participating, which is awesome.
I, unfortunately, didn't get to chat as much as I wanted to because of The Move and the fact that we didn't get our internet hooked up until Sunday. It's hard to blog without the web.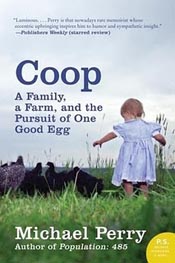 But, I loved Coop! And I loved all the things people had to say about the book. Here are some of the things I wish I'd been able to write/say, with some of my commentary sprinkled in (links go to reviews of Coop).
Andi started things off with lots of good things to say, but I think I agreed with her most on this point:
I really enjoy Perry's voice. He's funny and introspective by turns. He's sensitive and sarcastic. His writing comes across as very earthy, self-deprecating, and charming in general. That said, I found myself waffling back and forth between supreme entertainment and flustered exhaustion. His descriptions either made me cackle or roll my eyes.
Olduvai Reads also had some comments on the style of the book that I think are definitely accurate and similar to Andi's impressions:
However, Perry's style takes a bit of getting used to, as the narrative meanders from past to present. At one point, I confuse the two, thinking that he's talking about something that happened in his childhood, only to realise later that he was talking about the present. The other problem I had was when he went on about farming hardware like tractors or other technical whats-its, which made my eyes glaze over.
I felt pretty similarly – the tone of the book was one of my favorite parts because I felt like it was so different from the other farming memoirs I've read. Perry was sort of folksy-sarcastic in a way that I liked. The folksy part made the book charming, while the sarcastic part made me feel like Perry would be a guy that would be fun to go out for a drink with. It didn't always work, but when it did I was hooked.
Jill (Fizzy Thoughts) made a really smart comment in her review on something that I'd sort of figured out, but couldn't quite articulate when trying to explain the book to other people:
At first I found Coop to be a little disjointed, but about halfway through I realized what Perry was up to. While initially each chapter seemed like a series of sometimes unrelated essays, in reality each chapter is centered around a bigger issue. Like Death. Or Marriage. Or Parenthood. Or Religion.
So smart! The book doesn't really read as a straight narrative, other than sort of chronological, but I couldn't figure out what the organization was (and I'm big on knowing the structure). But this is just it – it's more a series of essays than a narrative, which is good but sort of unexpected given the subtitle of the book – "A Family, a Farm, and the Pursuit of One Good Egg" or "A Year of Poultry, Pigs, and Parenting," depending on your edition.
Chris (Book-a-Rama) read the book a few months ago, but generally liked it. My favorite comment she made is this one:
Life on a farm isn't all daisies and fuzzy bunnies (unless you feed them to the pigs), it's dirty and rough. Perry doesn't shy away from the uglier side of farming like slaughtering the chickens and pigs. It's reality and it's a little graphic. It didn't bother me any but it might others.
I thought this was really good point too. The book is quite honest about the reality of living on a farm – things living and dying and the cycles we go through. I was a little disturbed by sections about how brutal pigs are, but that's because when I think about piggies I always think of Babe!
Heather (Capricious Reader) got both more and less than she was expecting with the book, going into it with an expectation that I'd be like Animal, Vegetable, Miracle by Barbara Kingsolver. I'll admit to having the same set of expectations. She notes,
Coop is incredibly well written, if slightly meandering look at Perry's life, but instead of being about poultry, farms, or eggs, it is more about family. … I felt a certain kinship to the man as he struggles to do even the simplest things right. I have a very small garden in my backyard, big enough to last my family the summer, with hopefully a little bit left from canning and freezing to supplement our food during the winter.  Unfortunately I have commute to work and two children to entertain when I get home; so when I read of how Perry juggles his freelance writing with the daily farm life he hopes to lead…well, I was impressed.  And inspired.
I was impressed too, for sure. But I think what Jeanne (Necromancy Never Pays) points out about the book sort of chides the reader for being too impressed with what Perry has accomplished:
Most of all, I like his realization, towards the end of the story of his year, that he is "trying to do too much, and I'm not the one paying for it. I haven't cooked a meal with my wife in months. The pantry is full with home canning, and I spent maybe four hours in the garden. The division of labor has become nigh unto no division at all."
I agree with her that Perry's realization after a year on the farm was just right. It's sometimes tiring to read farming memoirs where everything is great the end, with an expanding farm and big plans. It was nice to read that a year of farming made him step back and connect with his family – family was a huge part of the book that I loved.
Definitely go check out the full reviews from all those awesome bloggers – they're a lot of fun to read. And if you haven't read Coop, I think the general consensus is to go grab a copy and enjoy the meandering and well-written account of family and farming.
Andi and I are still chatting about how we'll pick the next selection for BookClubSandwich, but once we decide we'll let you know. Thanks to everyone for participating!