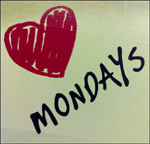 Monday Tally is a weekly link round-up of some of my favorite posts discovered over the week. If you have suggestions for Monday Tally, please e-mail sophisticated [dot] dorkiness [at] gmail [dot] com. Enjoy!
Top Picks
Some Cool Science
Wired Science appealed to the 5th grader in me by comparing current technology designed to help consumers monitor their health to the toy craze, the Tamagotchi.
A sailboat made entirely of plastic bottles sailed 8,000 nautical miles across the Pacific Ocean in four months. You can visit their website, too: http://www.theplastiki.com/
Authors I Like
Rachel Shukert – author of Everything is Going to be Great – did an interview about her memoir. I finished the book last week and liked it a lot. Read/listen to this until I get my review up.
The Bygone Bureau did an interview with the awesome Tracy Kidder about choosing stories and the writing process. I like this sort of rambling and contradictory quote from the end:
I think the importance of books, though I'm not sure how important books have ever been, has to measure their effects on things like politics and the social world people inhabit. I don't think they make a world of difference. Because I think art… I mean one of the things I think about poetry and fiction and nonfiction and narrative is it has the great power, that all the arts do really, to convert the experience of suffering, evil, and injustice into something beautiful. That there are many other arguments, it seems to me, particularly for storytelling and poetry, one is that it lends an order to life that life doesn't always seem to have. It's one of the ways we make sense of the world's chaos. I think preserving these memories that really ought to be, have to be preserved. I don't know, the appeal is very strong to me. To print books.
Bookish News
Publishers are starting to experiment with "enhanced" or "enriched" ebooks that include photos and video in the text. They're designed mostly with the iPad in mind.
NYT looked at tips for decorating with books and the art of filling a bookshelf. When I move and have to adjust anything, I expect to be thinking about this a lot.
Carrie Actually has a really informative post about the impact of the Amazon and Facebook integration. While in general Facebook creeps me out, I can see why this could be a useful service.
Curious who the big six book publishers are? This old (I think) post lists them, plus many of their popular imprints.
Turns out, more people get DVDs from libraries than from Netflix. As the article suggests, this is probably because it's a lot cheaper!
Some Random Stuff
Work Awesome suggested five web comics for adults. I already subscribed to three, and have added the rest.
This is the best thing that I saw all week. Take 3:22 and watch Jane Austen's Fight Club, you will not be disappointed.
Mpls.St.Paul Magazine did a feature on Jason DeRusha, a popular tv guy back in the Twin Cities. I'm linking to it particularly for this hilarious paragraph, which is so Minnesotan it hurts:
"The media is afraid of interacting with the public in a way that everybody else is already doing," DeRusha says. In the staid world of local television news, the notion of openly, brazenly bringing yourself and your opinions to the public—believed to only have the potential to cost you credibility and viewers—well, it's different. And as we all know, different is Minnesotan for disdained
At a little refresher, here are 10 Literary Concepts Every Reader Should Know.
Journalism News
This might only be of interest to journalism folks, but that's me. What would five of the best magazine stories of all time look like if they were written today, a time when long form journalism struggles?
A Norwegian court ruled against Norwegian journalist Åsne Seierstad in a suit brought against her by the second wife of the family she depicted in The Bookseller of Kabul. I just started reading another one of her books – The Angel of Grozny – which makes the accusations in this case pretty interesting.
Books for My TBR
The Decision Tree: Taking Control of Your Health in the New Era of Personalized Medicine by Thomas Goetz because the author wrote the previously noted story about Tamagotchi's.
Book Bench did a post on the coverage of Chelsea Clinton's upcoming wedding and cited a bunch of great sounding books on the culture of weddings: