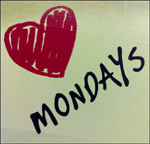 Monday Tally is a weekly link round-up of some of my favorite posts discovered over the week. If you have suggestions for Monday Tally, please e-mail sophisticated [dot] dorkiness [at] gmail [dot] com. Enjoy!
Top Picks
If you only have a minute, here are my top picks for this week.
News You Can Use
This article from USA Today does a really nice job of explaining two of the big competing arguments about what the Internet is doing to our minds – destroying our attention span versus adapting to being more information ready. It starts by contrasting two big books – Nicholas Carr's The Shallows and Clay Shirkey's Cognitive Surplus and articulates it well.
The New York Times did a long article on what consumption patterns make us happy, concluding that stuff usually isn't it. As someone getting ready to move, I'm certain my stuff is not making me happy.
Michelle Obama penned an editorial in The Washington Post about the food bill.
Research from the U of Minnesota found that ovulating women unconsciously chose sexier clothing in order to outdo attractive women. That's science, for you.
Books and Movies
Local arts paper 77 Square wrote about the Circus World Museum in Baraboo, which has a lot of memorabilia in the upcoming Water for Elephants movie. This is a cool story.
Trish (Hey Lady! Watcha Readin'?) did a provocative post about why she hates Amazon and refuses to buy from them. This inspired me to think more about my buying habits, and formulate some principles about book buying (a future post, still in draft form).
Susan Orlean lists some #booksthatchangekisdworlds that she got from her Twitter followers. There are some amazing kids books I the lists that I haven't read in forever.
Inception Was an Awesome Movie
Henry Jenkins writes about Inception, and about the ideas of genre and film and gaming. I saw the movie this weekend and thought it was awesome.
If you haven't seen Inception, go see it right now. Here's the trailer to persuade you:
If you've already seen Inception, then check out this College Humor video making fun of it.
And if that doesn't persuade you, read Roger Ebert's very smart review of the movie and take note things he says about genre. I wish I'd thought of that.
Stuff That's Painfully Obvious
Apple is facing a class action lawsuit from consumers who think that the claim "reading on the iPad is just like reading a book," is false. All I can say to that is duh, and get over it.
Mark Zuckerburg thinks that privacy settings hurt engagement on Facebook. I think lack of privacy settings and disregard for the value of personal information from Facebook executives hurts engagement on Facebook, but that's just me.
Stuff That Should Have Been Obvious, But Surprised Me
This Slate piece looks at what it takes to keep Sarah Palin's Facebook page sanitized with only comments in support or agreement with her posts. In the 24 hours after a post when up, about 10 percent of the comments were deleted. I find this interesting because, for some reason, it didn't occur to me that politicians would sanitize social media like this. The article compares online comments to highly-orchestrated town hall forums, which disturbs me.
The Blogger's Toolkit
10,000 Words did a post explaining analytics for journalists, but I think it's equally useful for bloggers just starting to look at web traffic.
Google finally announced multiple account sign-in for Google accounts! This is awesome news for anyone with a personal and blog e-mail you have to bounce between. I haven't used it much yet, but am excited to see how it works.
Here are 30 reasons someone might not follow you back on Twitter. Funny and true.
Books for My TBR
What's your favorite link this week? Anything major that I missed? Anyone else see Inception and want to gush about how awesome it was?