We're having trouble getting the Internet hooked up in my new apartment, so it seems like exactly the right time for this particular Narrative Nonfiction 5 list. Read on to find out why!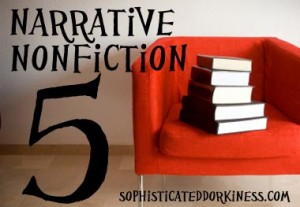 This is a little bit of a nontraditional Narrative Nonfiction 5 list, since I think it's a bit of a stretch to call most of these books "narrative nonfiction." They're more classic nonfiction, even though the bits I've read of each do have a conversational style that I really appreciate.
The books on this list are all responses to the fact that technology is changing us as individuals and a society – some think for the better, and some think for the worse. Ever since I started my new job (working for a engineering trade magazine), it seems I can't get enough of this discussion, and wanted to share some of the books I'm most excited about reading with you.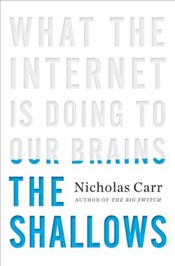 The Shallows: What the Internet is Doing to Our Brains
I started reading this book on my nook last week, and so far am quite enjoying it. Carr argues that the way the Internet works – connected links and constant movement from one thought to another – is fundamentally reshaping our brains, and not necessarily for the better.
So far, I think the book has done a nice job of being conversational not confrontational, and isn't the sort of Luddite argument against technology that it could be. I'm looking forward to seeing where it goes.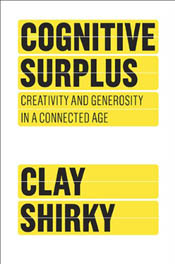 Cognitive Surplus: Creativity and Generosity in a Connected Age
In this book, scholar Clay Shirky looks at the way changing technology has shifted us from passive consumers to active participants in our media. The idea of "cognitive surplus" is all the extra brainpower Shirky thinks we can use to make a difference.
I want to read this book as a sort of contrast to The Shallows because I think it's less down on technology. I'm also interested in the possibilities new technology has for community engagement and helping the world, which this book addresses.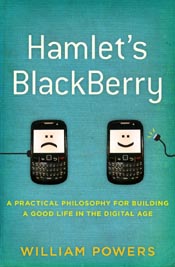 Hamlet's BlackBerry: A Practical Philosophy for Building a Good Life in the Digital Age
I came across this book in one of Harper e-mails offering review copies, and I had to ask for it. In it, Powers uses literature and history to argue that being connected is best when we are balance it with ways to disconnect.
This is another book that I think I'm drawn to because of work. I spent eight hours a day at a computer consuming and producing information for our website, then come home and want to blog and tweet and be on Facebook in a way that's sucking my time. I've become a sucker for any books about work/life balance in the digital age.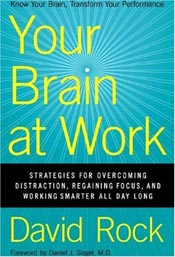 Your Brain at Work: Strategies for Overcoming Distraction, Regaining Focus, and Working All Day Long
Your Brain at Work is the most nonfiction of these books, in the sense that it reads a little like a self-help manual. Rock uses two fictional characters – Paul and Emily – to go through the distractions and problems of a single day, staring with the morning e-mail overwhelm and ending a call for some cultural transformation.
I want to read this book because I feel like I've become really distracted during my work day. I find myself flipping almost manically between e-mails and writing and watching videos for most of the day. I'm plenty productive, it just feels really insane. I want to work on this, and I'm hopeful the book will have some good tips.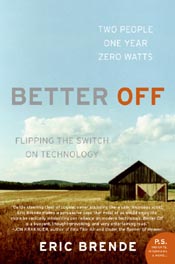 Better Off: Flipping the Switch on Technology
And finally, the most narrative of the five books on this list. In this memoir, MIT graduate Eric Brende and his wife, Mary, ditched all of their technology – car, electric stove, refrigerator, and everything else on the grid – to join a remote community. The book is the story of their experiment living off the grid.
Another thing I've always loved are books about people who decide to make a drastic change in their lives, and this book is a prime example of this one. I've skimmed a couple chapters, and so far I've liked the mix of science and story in this book.
Have any favorite nonfiction (narrative or not) about technology or the Internet? Any big books I've missed? I've read a little bit in all of these books – thoughts on which one I should commit to first?