Yesterday afternoon I got an especially funny review pitch e-mail, which I posted about on Twitter: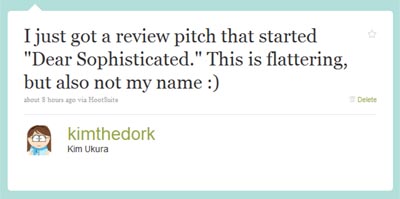 Normally I wouldn't bother to point this out because I know that I've been on the wrong side of a silly mail merge, but this one actually made me laugh. And I got quite a few funny responses from my Twitter followers, including whether I'd rather be "Dear Dorkiness," or "Your Dorkiness" or even "Ms. Dorkiness." Book people have a sense of humor.
More seriously, the whole blogging and publishing space is new for everyone, so it's inevitable that there will be missteps and mistakes. But getting a bad pitch often reminds me of just how many publishers and publicists are doing a great job of working and interacting with bloggers.
To get back some karma after pointing out a negative, here's a not-at-all-comprehensive list of a few people and organizations that I've seen doing good things to connect online.
Peachtree Publishers is one publisher I think is doing a lot to bridge the gap between bloggers and publishers/publicists.They've written a few great posts you should read and then bookmark for future reference:
Harper Perennial is another great example. Their blog, The Olive Reader, includes great personal reviews and recommendations. And Erica, their designated Tweeter, has made the @HarperPerennial Twitter feed fun to follow.
Lindsay Rudnickas is the Digital Concierge for NetGalley, and she does a great job connecting readers and publishers. She retweets NetGalley reviews, writes informative weekly e-mails, and has as active Facebook presence.
NetGalley also sponsors the blog Follow the Reader, which hosts weekly Twitter chats (#followreader) on book and publishing related issues. I've participated a few times, and always found bloggers welcome in the discussion.
Other active publishers I've seen on Twitter – and by active I mean promoting books AND interacting with readers – include @LEEandLOW, @AlgonquinBooks, @harperbooks,and @littlebrown.
As a blogger, all of these people have made it easy, fun, and not intimidating to participate in book industry discussions and feel like my voice is heard. That's something I know I really appreciate.
As I said, this isn't nearly a complete list. I'd love to hear from other bloggers and book industry people – who else is doing a great job connecting online?