About three months ago, Boyfriend and I were invited to join a wine tasting group here in Madison called WASTED – it's an acronym for something, but no one can see to remember what!
I'm not a big wine expert, but it's something I've always wanted to know more about. There's something sophisticated and classic about ordering a glass of sauvignon blanc or a good merlot with dinner. Of course, I don't really know what to look for in a glass of wine, but everyone in the group has repeatedly told me that the best way to get to know wine is to just drink it; that's the only way you'll learn what you like and don't like.
We're heading off to another WASTED meeting this afternoon, which made today seem like the perfect time to review a narrative nonfiction book I just recently finished about the history of wine in the United States, The Wild Vine by Todd Kliman.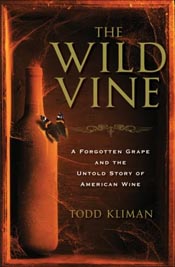 The book full title – The Wild Vine: A Forgotten Grape and the Untold Story of American Wine – sums up the story pretty well. In the book, Kliman sets out on a mission to figure out the mystery of the Norton, the first American-grown grape that was internationally recognized in 1873 for its distinct and flavorful wine. However, after 1873 the Norton disappeared, and it's only been within the last 30 years that a few unique American growers have taken it on as a cause.
That description makes the book sound pretty dry (ha ha!), but there's actually a lot more intrigue to the story than that. I just can't share much because I don't want to spoil anything.
I loved the way that Kliman made the case for the Norton's importance, using this particular grape and wine to say something about American culture. This comparison on page 132, about the Norton after it was recognized in 1873, was one of my favorite passages of the entire book:
An American type had clearly arrived, too. In the novel, there was Twain's crudely vernacular first person; in poetry, Witman's ragged, exuberant lines; in music, the emergence of an exciting new sound like that improbably set the formal harmonies of European balladry with percussive African rhythms. All were initially met with disapprobation or derision, dismissed as coarse, barbaric expressions, beyond the bounds of taste, of what was acceptable. Norton, departing from familiar models, was their counterpart in wine: earthy, bold, and wild on the tongue, sometimes over-looked and often misunderstood, a mélange of aestivalis and vinifera, of Europe and America, that was, ultimately, nothing so much as itself.
I love the way wine becomes an example of what it means to be American, a symbol of a country and a culture that I wouldn't have noticed myself.
Norton and its history is filled with amazing characters. The grape was first discovered by Dr. Daniel Norton, a suicidal wine-tinkerer in Virginia in the 1820s. It went on to be loved by German immigrants in Missouri and then disappeared. The current champion of the Norton is a tech-boom millionaire named Jenni McCloud, an amateur winemaker but enthusiastic local wine aficionado who sets Kliman on his journey to discover the mystery of the Norton.
Like a lot of recent narrative nonfiction, Kliman uses himself and his search as an anchor for the story – every few chapters we get an update on how his search is going before diving back into the history of the grape and of wine culture in America.
These first-person sections were hit and miss for me. I loved Kliman's interactions with McCloud, who is boisterous and fun and a wonderful person to read about. However, some other sections got focused on Kliman dealing with his father's death, which happened during the course of writing the book. While I get that this was a bit event for him, it feels a little out of place in this story.
While I liked reading the book, I think it's one that people who are really into wine would love. In addition to writing about the Norton, Kliman offers a broad history of wine and wine-making in America that, while sometimes too much for me, would be a great story for people who love the topic.
And with that, I'm off to make some food for our wine tasting and get my day started. Happy Sunday!
Do you have any favorite books on wine? Any particular wine recommendations? Or favorite books on obscure Americana?