Friday night, my roommate Amanda and I went to see a local theater production of 84 Charing Cross Road, an adaptation of a 1970 book by author Helene Hanff that chronicles the relationship through letters that Hanff built with staff at a British bookstore while looking for obscure book titles.
The play was lovely – quiet and thoughtful, but also brash and funny. Amanda commented afterwards that she felt herself smiling through the entire play. I did too. My good friend Lindsay, theater critic at the local newspaper, wrote a lovely review of the play that you should read. I think Lindsay sums it up perfectly when she says,
The whole affair is an ode to the written word, to people who find themselves — and one another — in the turning of pages.
In some ways, the letters that Hanff exchanged with Frank Doel and the rest of the staff reminded me of book blogging — throwing words out there for others to read, sharing a love of books across space with people who feel the same. I loved being in a theater where it felt like so many people understood that feeling.
The other big bookish news is that I finally got a reading chair! Ever since I moved, I've been looking for the perfect chair to fill a spot out in our nook. I wanted a nice, big comfy chair with an ottoman, but didn't want to spend too much money on it — I've got student loans to pay, after all.
After months of Craigslist searching, I found a chair that's almost perfect. Coincidentally, the family I bought it from was also originally from Minnesota, and the mom's name is also Kim. I thought that was funny. Anyway, here's the chair: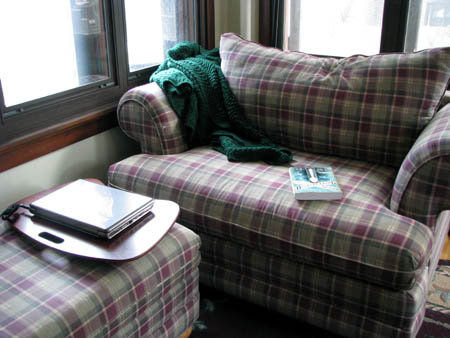 Sorry the photo quality is so bad. It's a little bit bigger than seems right for the space, and the plaid clashes a little bit with our carpet, but for $100? It's awesome.
I settled into it Friday night after the play to read some more of The Disappearing Spoon by Sam Kean — a history of the periodic table — and it was just the kind of chair I wanted. But, I won't get to read much today because Boyfriend, friends, and I are off to Six Flags Great America. Rollercoasters, here I come!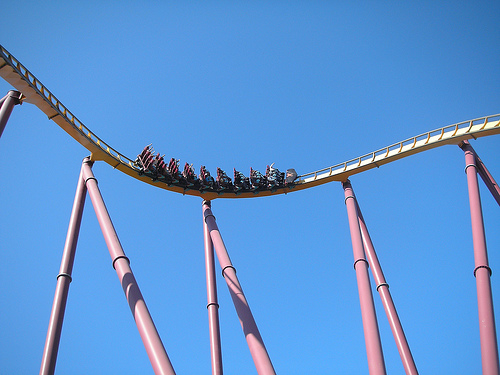 Raging Bull photo by BreakfastPirate via Flickr