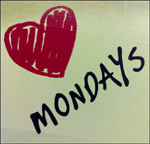 Monday Tally is a weekly link round-up of some of my favorite posts discovered over the week. If you have suggestions for Monday Tally, please e-mail sophisticated [dot] dorkiness [at] gmail [dot] com. Enjoy!
Things I Look Forward To
Dewey's 24-Hour Readathon is coming up in two weeks, exciting! I get to participate for part of it, and with a special guest – my sister! I'll be in Iowa that weekend, so Jenny and I have plans to hunker down and read for part of the day on Saturday. Woo!
Awesomeness with No Explanation Required
Book Debates and Discussion
Author Maureen Johnson did a stellar post laying out the faulty logic behind the argument that the solution to problems with boys' reading is to have more male authors and "boy books." She points out that girls have survived just fine reading books written by the opposite gender for a long time.
I didn't know that having a book come out in as a paperback original (rather than first in hardcover) was a bad thing. Not so, suggests an article from the Wall Street Journal about the changing impressions of this type of book. I prefer paperbacks myself – both for price and for ease of reading – and would much, much rather buy books that way. Thoughts?
The Daily Beast Book Beast highlighted 20 of the biggest books of the fall. Some that look particularly good to me include:
WCCO, a news organization in the Twin Cities, profiled the 10 best independent bookstores in the Cities. I've been to a couple, but would love to see all of them!
The Book Blogger's Toolkit
The Big Bad Book Blog posted a useful how-to post about commenting on blogs. Although their audience is authors, the advice is relevant to just about any new blogger trying to build traffic.
How do writers review their critics? In a world where authors are increasingly called on to be reviewers, what do we make of the reviewing landscape? In The Guardian, author/critic Lesley McDowell defends the critic, saying:
Critics, by and large, (there will always be the odd exception) say what they think of a book. If they say they don't like it, that usually means they don't like it, not that they really spend their time waiting for the chance to hit back at a bestselling author for the luxury Tuscan villa he owns and they'll never have, or because their homes are filled with ceiling-high rejection slips from publishers for their own hopeless literary efforts.
Thoughts on E-Reading
Kate (The Parchment Girl) did an extensive post looking at some of the environmental issues that come up when comparing e-readers and paper books. It's a well-researched and informative post. Also, if you're curious about the issue of electronics manufacturing and mineral resources in electronics – which Kate touches on – check out this TIME video on the subject.
This article on e-reading trends has some stats that I found interesting:
"Those who have e-readers do, in fact, read more," said Regina A. Corso, director of the Harris Poll, in a statement. "Overall, two in five Americans (40%) read 11 or more books a year with one in five reading 21 or more books in a year (19%). But among those who have an e-reader, over one-third read 11-20 books a year (36%) and over one-quarter read 21 or more books in an average year (26%)."
Randoms
Gene Weingarten of the Washington Post writes a eulogy to the English language.
Research from UC Berkeley shows that kids "fed a steady curriculum of gardening, cooking and nutrition have significantly better eating habits than children who don't get the same instruction." It's sort of a "duh" conclusion, but important data in the growing fight to give kids healthier school food options.
For my weekly "OMG I wish I were as smart as Linda Holmes" link, I suggest her Guide to the Thursday Night Comedy Battle, which highlights why you should watch Community, as well as calls out CBS for being jerks that don't put their shows online.
Books for My TBR