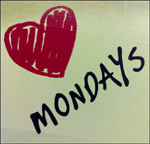 Monday Tally is a weekly link round-up of some of my favorite posts discovered over the week. If you have suggestions for Monday Tally, please e-mail sophisticated [dot] dorkiness [at] gmail [dot] com. Enjoy!
It's been like a month since my last Monday Tally… Oops.  I blame The Move and then me just being lame. But now it's back, and I pledge to bring you awesome links. Some of these are a little old, but hopefully still good. Here we go!
Random Old and New Links
I haven't gotten to watch it yet, but NBC's webseries, FCU: Fact Checkers Unit, looks really promising.
If you're not subscribed to Very Short List, then you should be. Each day, VSL sends out one great link, a mix of books, movies, comics, or other fun web stuff.
I like infographics, and this one about how the internet works was pretty helpful.
Roald Dahl was a real-life spy? Apparently so.
This is a little old, but we came across it at work this week and I thought it was great. Seth Godin asks, "Why are so many things broken?" and goes on a tour of badly designed stuff.
NYT columnists encourage America to take a day off. I heartily concur.
The Biblio Blogazine did a great post about how to respectfully spend time at coffeeshops and other public places. In an age where more and more people have roving offices, I think this post could be useful.
This is a possibly not safe for work parody of "Telephone" by Lady Gaga that takes place in an office – I liked it.
Another shocking thing I learned – not everyone loves Ted Mosby (How I Met Your Mother). How can that possibly be? Either way, Monkey See blogger Linda Holmes presents a great defense of why Ted is the way he is and why the narrative in HIMYM is so, so good.
Another great website I recently found is Five Books. There are a bunch of lists of five books you can read to become an expert on a certain subject. For a representative sample, here's Catherine S. Manegold's list of narrative non-fiction:
Ship of Gold in the Deep Blue Sea by Gary Kinder
A Chorus of Stones: The Private Life of War by Susan Griffin
The Orchid Thief by Susan Orlean
Mayflower by Nathaniel Philbrick
A Civil Action by Jonathan Harr
I like this article about the lives of bookstore cats, except for the weird formatting at the bottom.
Kobo published The eReaders Bill of Rights, which includes things like "The Right to Get Your Books Out" and "The Right to Freedom of Movement." But their main point is that where you buy your ebooks matters more than you imagine, which is a big deal that I'm not even sure that I've thought of enough.
Events That Sound Cool
I got an e-mail this week about an event hosted by Investigation Discovery tonight (Monday, 9/20 at 7 p.m. EST) at the Library of Congress. Three mystery authors — David Baldacci, Sandra Brown, and Kathy Reichs — will be on a panel talking about the real life cases and investigations that inspired their stories. There will a streaming webcast of the event at www.investigationdiscovery.com, and in the fall there's going to be a series with the game theme. Sounds pretty cool to me – I hope I can tune in.
Favorite BBAW Posts
BBAW was last week, and there were a lot of awesome posts both on the BBAW blog and across the blogosphere. Here are a few of my favorites from the BBAW blog and other places:
Books for My TBR
Thanks for reading we first Tally back from break – I'll try to be more consistent from now on 🙂