Starting yesterday, literary folks in Wisconsin get to heat to the Wisconsin Book Festival, an annual event that celebrates books and writing and all of those fun things! I missed the festival the first year I was in Madison, but managed to go last year and wrote up about a few events.
I'm actually traveling for work today and quite busy this weekend with a birthday party, but I'm hoping to get to at least a few events. If you're a reader in the Madison area, these are some of my recommendations for things that should be interesting. The full schedule is also available online.
Thursday, September 30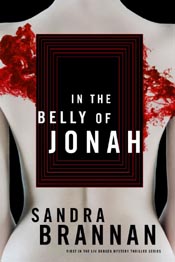 While not technically an event that's part of the festival, I can't not mention that mystery author Sandra Brannan (In the Belly of Jonah) will be in town for a signing at Booked for Murder from 6:00 – 8:00 p.m. I was lucky enough to have dinner with Sandra and some other publishing people the night before the Book Blogger Convention, and had a great time. Sandra was really enthusastic and fun, so if you're a mystery reader be sure to stop by. Sandra also wrote a nice post about bloggers during Book Blogger Appreciation Week you should check out
At the very same time (5:30 – 7:00 p.m.), Gina Francello and Cris Mazza will be at A Room of One's Own for "The New 'F' Word: Two (Feminist) Writers Debunk Myths Around Feminism and Sex." One writer is an author of short stories, and the other wrote a book about the sex trade of illegal Mexican immigrants. Sounds fascinating.
Friday, October 1
My former professor, Deb Blum, will be talking about her book The Poisoner's Handbook from 5:30 to 6:30 p.m. at the Overture Center. I've heard a lot about the book from Deb when I had class with her, but I think it'd be fun to see her read to a big group.
The big event on Friday night is the Friday Night Festival of Fiction, from 8:00 to 10:30 p.m. at the Barrymore Theater. Gary Shteyngart, Susanna Daniel, Danielle Evans, and Lan Samantha Chang will all be doing readings of some kind in a big two act event. It sounds like a great way to spend Friday night.
Saturday
Book publishers and editors will be available on Saturday morning from 10:00 to 11:30 a.m. at the MATC downtown campus to talk about what they do. I don't know a lot about that, so that sounds appealing.
But at the same time, Harriet Brown will be doing a reading of her book, Brave Girl Eating, about her daughter Kitty's battle with anorexia. Also sounds good, but sad.
From 3:00 to 4:30 p.m. at the Central Library, Danielle McGuire will be reading from her book At the Dark End of the Street: Black Women, Rape, and Resistance, a nonfiction book looking at women's resistance in the civil rights movement. Totally fascinating.
Sunday, October 3
Amy Lou Jenkins will be at A Room of One's Own from 12:30 to 2:00 p.m. talking about her co-written book Across America By Bicycle, which is a nonfiction book on exactly what it sounds like.
Later in the afternoon (2:30 – 3:30 p.m.), Robert McChesney and John Nichols will be at the Overture Center talking about their book The Death and Life of American Journalism. This book has been big in Madison for the last few months and I've had plenty of opportunities to hear them speak, just haven't yet. Maybe this will be the time 🙂
Those are just a few of the awesome events planned for the next few days that I hope to get to (if I'm not too lazy or too busy sitting in my reading chair!). Anything that looks particularly interesting I should make a point to attend and report back on?