In case you haven't heard, this weekend is Dewey's 24-Hour Read-a-Thon! I inevitably miss most or all of this event every time it happens, I have no idea why, but this weekend looks promising.
Tonight after work I'm driving out to Ames, Iowa to spend the weekend with my sister, Jenny, and we have plans to Read-a-Thon for part of the day. She has homework, and I have sweet, sweet books. Plus, I'm basically couch-bound because of a sprained ankle, so some of the fun, "Let's go walk around Ames!" activities have been sidelined.
I dragged a moderately insane number of books to Iowa with me, mostly because I just wasn't sure what I'd want to read. They're all nonfiction and all pretty short, which I suspect is good for the Read-a-Thon. I don't think I've made a serious effort to read before, so I'm not sure.
Anyway, the books!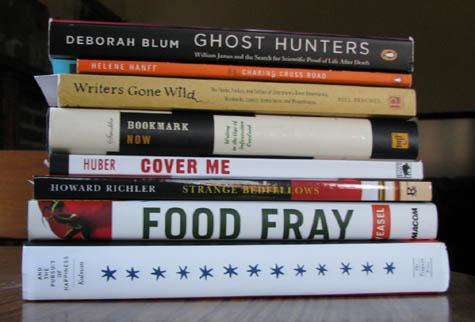 Ghost Hunters by Deb Blum – I grabbed this one because it seems like a great October book, plus I want to review some nonfiction Halloween books at the end of the month.
84 Charing Cross Road by Helen Hanff – I recently saw a play based on this book and have wanted to read it since. Plus, it's absurdly short and should be easy to read right away to give me a boost at the start or late at night when I'm addle-brained.
Writers Gone Wild by Bill Peschel – I got this for review a few days ago and it looks humorous. It has lots of short sections, which should make it a good Read-a-Thon book.
Bookmark Now edited by Kevin Smokler – Anastasia (Bird Brain(ed) Book Blog) sent this to me this week (along with some other awesome nonfiction, to be highlighted another day). It's a collection of essays, which might be good Read-a-Thon material if I'm trying to read when distracted.
Cover Me by Sonya Huber – This is a short book coming out this month that I'd like to review. Its length was the big appeal!
Strange Bedfellows by Howard Richler – I'm reading this for the Eco Libris Green Books Campaign in November, plus, it's another short book.
Food Fray by Lisa H. Weasel – I've had this review book about genetically modified foods for awhile now and wanted to give it a slot. I'm not sure if it's a good Read-a-Thon choice or not; we'll see.
And the Pursuit of Happiness by Maira Kalman – This is another review book set for November that I grabbed because it's mostly illustrations. If I read late into the night, this could be a good option.
There is absolutely no chance I will read all of these books, but I like options. I've also got my nook, which has The Shallows by Nicholas Carr and Best American Essays 2010 on it that I've started. Those could be options too.
I'll try to post pictures tomorrow; I know Jenny will be just thrilled to have her photo gracing the Interwebs yet again – especially at 7:00 in the morning! </sarcasm>
Also, a last note of advice/warning inspired by my experience as a cheerleader a couple of years ago: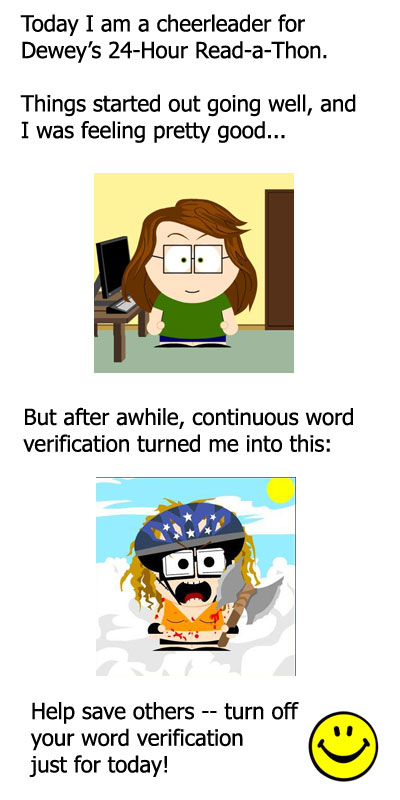 Happy Readathon! What are your plans for the big day?