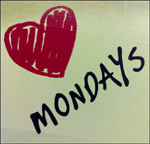 Monday Tally is a weekly link round-up of some of my favorite posts discovered over the week. If you have suggestions for Monday Tally, please e-mail sophisticated [dot] dorkiness [at] gmail [dot] com. Enjoy!
And the Winner Is…
Last week I asked people to vote for which of the nonfiction National Book Award finalists I should read. The final results were:
Secret Historian by Justin Spring – 10 votes
Nothing to Envy by Barbara Demick – 7 votes
Every Man in This Village Is a Liar by Megan K. Stack – 3 votes
Cultures of War by John W. Dower – 1 vote
Just Kids by Patti Smith – 0 votes
The two I was leaning towards were Nothing to Envy and Every Man in This Village Is a Liar because I love narrative nonfiction by journalists, but of course I'm excited about the winner. I reserved it from the library today, and hope I'll be able to get to it by the end of the year.
Twin Cities Book Festival
This weekend I went to the Twin Cities Book Festival (full recap coming this week, I hope). One of the bloggers I met up with, Sheila at Book Journey, already posted a re-cap of the panel she was on – The Changing World of Publishing – Getting Books to Readers. Check it out!
Ash at English Major's Junk Food already did her recap of the event, which you should go read until I get my back together. And so did Alea at Pop Culture Junkie… Such good bloggers!
News and Video
The Feminist Texan Reads did a really creative, pictorial review of Visit from the Good Squad by Jennifer Egan that I really think you should check out.
This made me cry at work. This is the most moving It Gets Better video that I have seen so far. You can see more at http://www.youtube.com/user/itgetsbetterproject.
Although you might be tired of these, I'm always drawn to stories about the impact the failing economy is having on kids my age – young, educated, and unemployed. I'm not sure that this one from Good says much that is different, other than again emphasizing how different the world students are graduating into is than the one they were told to expect and how ongoing underemployment and unemployment plays into the shifting idea of what it means to be an adult.
Combining two things I love: good Sesame Street parodies and the Old Spice Guy.
I enjoy watching Glee, and I really enjoy reading things by smart people who write about Glee. That's why this Time piece by James Poniewozik is recommended – he totally gets why Glee works, and what makes an episode like "Duets" (last week) awesome.
One thing I like about Glee is that it operates on a different level of reality than other network dramas, and different sets of rules (or none at all). I've always been OK, with that, just as I can accept that in a musical characters break into song with backup dancers—it's a heightened, nonliteral representation of that character's inner reality. Not only does this make the show simply more interesting, at times it allows for effects that straight realism can't achieve. But the show does need emotional realism, and on that level, "Duets" was, thankfully, in harmony.
About Reading
To Read, Or Not To Read suggests 12 easy tips to help you read more books. I practice a few of these, want to practice a few others, and hadn't thought of a few of them too – it's a good list!
Amy (Amy Reads) talks about how she and her sister would read new Harry Potter books at the exact same time – you have to see the picture on this post.
Books for My TBR
Lisa at The Little Reader posted a few journalism books that struck my eye:
The Heroine's Bookshelf because of a fun promotion going on at The Roaring 20s.
The Penelopiad by Margaret Atwood because I love Margaret Atwood and Trisha (eclectic / eccentric) gave it a good review.
The Odyssey by Homer because Trish (Love, Laughter, and a Touch of Insanity) is doing a November readalong, and Trisha said you should read this book before tackling The Penelopiad.
Heather (Age 30+ … A Lifetime of Books) wrote about her book club's experiment reading graphic memoirs. The entire list looks awesome: