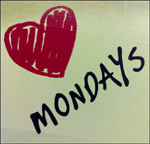 Monday Tally is a weekly link round-up of some of my favorite posts discovered over the week. If you have suggestions for Monday Tally, please e-mail sophisticated [dot] dorkiness [at] gmail [dot] com. Enjoy!
Questions for You
One of my goals for this year was to try and make a little money from my blog – enough to maybe pay the webhosting fee. Recently, I started beta testing an advertising widget from Madison.com, a local website working to develop a blogger network for our local newspaper. When you come to Sophisticated Dorkiness, you'll see an ad banner across the bottom that includes some scrolling post titles. I'm looking for feedback on it – good or bad. Is it distracting? Not noticeable? Any suggested changes?
Now, more fun stuff: Bookstore employees have some idiosyncratic – and funny – book sections. What sections would you have in your dream bookstore? (via @harperbooks)
A Literary Odyssey asks her readers how they keep track of book quotations they love. This is something I struggle with, so really enjoyed the comments. Do you have any other suggestions?
Little Bites of Funny
Literary sandwiches! In this case, I'd grab The Nora Roberts or The Animal Farm. Nom nom nom.
An oldie but a goodie – employees at Last.fm turn one of their offices into a ball pit. Jealous!
A computer science student formatted one of his term papers so he could "Rickroll" his professor. I'm impressed.
Bookish News
This Google Map includes data points for every book challenge documented by the American Library Association between 2007 and 2010, and lets you pinpoint them by location.
Nieman Storyboard did a two-part interview with author Tracy Kidder (Part 1, Part 2), where he talks about his writing process, organization, and definitions (or non-definitions) of narrative nonfiction. Reading these psyched me up for a potential Tracy Kidder reading project for next year.
My friend Lindsay reviewed Valparasio, a play about media and society, that we went to see last weekend. If you can get your hands on a copy or see it, it's pretty good.
Science!
Research at Cornell suggests that rather than banning unhealthy food in school lunchrooms, it makes more sense to just move healthy food to a more convenient – "The easiest way to lunchroom choices is to make an apple more convenient, cool, and visible than a cookie."
Does the heart fall in love, or the brain? That's a questions researchers at Syracuse University are trying to answer using neuroimaging of the brain:
The groundbreaking study, "The Neuroimaging of Love," reveals falling in love can elicit not only the same euphoric feeling as using cocaine, but also affects intellectual areas of the brain. Researchers also found falling in love only takes about a fifth of a second.
When political videos go viral, who is responsible? University of Washington researchers looked at how political videos work their way through the internet, and found it's a generally top-down approach – big blogs post, general blogs follow, and then everyone else after that. This is interesting to me in the way it shows hierarchy and power dynamics exist even online.
Books for My TBR
Spellbound: Inside West Africa's Witch Camps by Karen Palmer because of a funny post on The Book Bench (the New Yorker Books Department blog). Teaser alert – this book will be on a Narrative Nonfiction 5 list of spooky books coming later this week!
What Technology Wants by Kevin Kelly because a book that includes stories about Amish hackers sounds amazing.
The Power of Half: One Family's Decision to Stop Taking and Start Giving Back by Kevin and Hannah Salwen because I'm intrigued by the idea of getting rid of half my stuff (thanks MADreads!)
The Gerbil Farmer's Daughter by Holly Robinson because I really enjoyed her post at Huffington Post about the changing world of the book tour. Plus, that's just an awesome title.