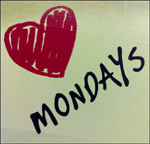 Monday Tally is a weekly link round-up of some of my favorite posts discovered over the week. If you have suggestions for Monday Tally, please e-mail sophisticated [dot] dorkiness [at] gmail [dot] com. Enjoy!
It's a little bit of a short and late Tally this week, but still full of linky goodness.
I wrote a blog for work this week titled, Sorry, I Can't Hear You, I'm Eating Sun Chips. I was amused by it, and you might be to.
Confessions of a Used-Book Salesman: This is, I think, the most interesting story of the week. A guy goes into junk shops with a laser scanner, collecting used books for super cheap in order to sell them for profit on the Amazon Marketplace. Is nothing sacred?
Cupcakes, from A to Z! Enough said.
Make Magazine shows how to easily make a secret compartment by hollowing out the middle of a book. I'm sure everyone knows this, but I remain impressed and want one SO BAD.
The New York Times recommends six books for wine and spirits lovers. Good books, one and all.
In a digital age, has the business card become irrelevant? The Washington Post says no, which anecdotal evidence from my own life backs up.
In another very informative post, the Big Bad Book Blog breaks down each of the major jobs in the process of publishing and marketing a book.
A University of Oregon acappella group, On the Rocks, did an amazing version of "Bad Romance" by Lady Gaga. I was singing this song all weekend.
How Apple plays the pricing game – super smart and super misleading.
Hunter S. Thompson once applied for a journalism job at the Vancouver Sun, which shares his cover letter. As my friend Erin said, "I'm not a huge Thompson fan, but I do admire and appreciate his willingness to just really commit those thoughts to paper no matter what they are."
This article goes into the, "I Totally Thought of This Already, But Didn't Get Paid to Think It" category: Entertainment Weekly looks at how reality tv explains The Hunger Games.
Danielle Evans is one of the authors I saw at the Wisconsin Book Festival (a full recap coming this week). The Washington Post looks at her ability to straddle racial divides in her writing.
If the Sims were on Facebook, this is what might happen. Hilarious.
Book for My TBR
The Rights of the Reader by Daniel Pennac because of a post from Erin at Erin Reads. And that's all, because I was really bad about reading blogs last week and that's where I get all my recommendations.