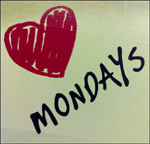 Monday Tally is a weekly link round-up of some of my favorite posts discovered over the week. If you have suggestions for Monday Tally, please e-mail sophisticated [dot] dorkiness [at] gmail [dot] com. Enjoy!
BookClubSandwich: We're Heading Into The Jungle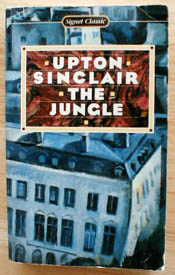 The book readers voted on for our next BookClubSandwich read is The Jungle by Upton Sinclair. I'm excited about this pick – it should be easy for everyone to find and, even though it's a novel, is often cited as one of the big books in journalism history.
The discussion will start online at my blog on Monday, November 8. Then, Andi (Estella's Revenge) will do a wrap-up of the discussion on November 15. Hope you'll join us!
Bookish News and Notes
Nieman Storyboard did an interview with Ron Charles, creator of the 'Totally Hip Video Book Reviewer.' If you haven't watched those videos, go over and do it right now.
Gene Logsdon has written a book called Holy Shit, which is about agriculture and manure. But when he gets interviewed or press about the book, no one can say the name.
Greg at The New Dork Review of Books wrote A Reasonably Short, Fairly Impassioned Defense of Reading Fiction, that I enjoyed. Sometimes even us nonfiction lovers need a gentle reminder.
As a balance to my link to Maureen Johnson's piece on reading for boys last week, I suggest this post by Jodie at Book Gazing that looks at the topic – also read the comments, they're interesting too. Thanks to Jeanne at Necromacy Never Pays for pointing this one out.
Taxes, TV, Stats
Talking Points Memo put together a tax receipt for a person who pays about $5,400 in federal taxes. It's a pretty enlightening breakdown.
Sesame Street parodies True Blood with a skit called "True Mud." Totally cute, which seems like a silly way to describe a True Blood parody.
The Wall Street Journal reported that the number of young adults that have never been married is now higher than the number of adults who have been married.
Media Clichés and the People Who Love Them
First, "This is a news website article about a scientific finding," which is funny and sad for anyone who has read or done science reporting.
And then this video makes fun of tv news reporting:
Books for My TBR
I didn't do a ton of blog reading this week, but I found one book for my TBR: Bottlemania because Maphead suggested it on my review of Bottled and Sold.